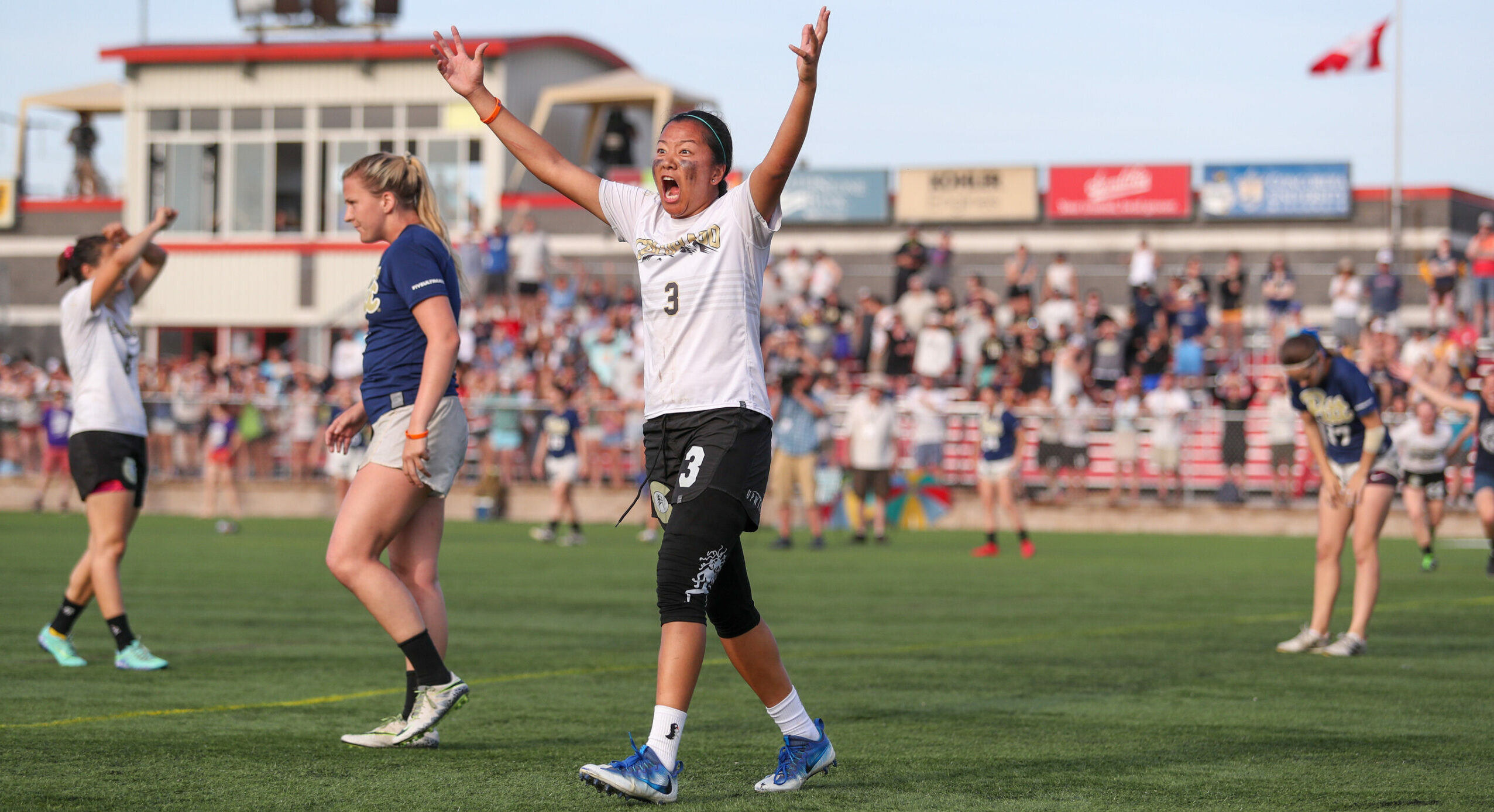 College
Guidelines &
Registration
Welcome
Here you'll find everything you need to know about competing in the college regular season and the postseason championship series, including competition guidelines, key dates and deadlines, roster status, contact information, resources and more.
Conference Championships Registration Deadline
Sign up now for the 2021 Postseason Championship Series
Key Dates
Registration Deadline for Conferences
Sign up for the 2021 Postseason Championship Series.
Team Rosters Due
All registrar-certified team rosters must be received by 5:00 p.m. MT.
Graduated Student Forms Due
Teams must submit the online form highlighting any graduated students on their roster.
D-I & D-III College Championships
A combined USA Ultimate D-I and D-III College Championship Tournament!
How to Register for the 2021 Championship Series
Log in to your online USA Ultimate account.
Create a team and add players to your roster.
Become a team manager and add a new team. Individuals may only be added to your team roster if their membership dues and waivers are up to date.
Note special instructions for minors.
Players under the age of 18 may not be added to your roster without first adding a chaperone who has completed a background check. Minors must also have a parent or guardian sign the waiver and have a Medical Authorization Form on file.
Register for your Conference Championships.
Sign up your team online for your conference championships by September 24, 2021.
Print roster and submit to your school's registrar for verification.
Under your team manager account, print the roster for your registrar and follow the instructions.
*List eligible graduated students on the registrar-verified roster. Your registrar has received instructions to officially verify graduated students.
Send your registrar-verified roster to USA Ultimate.
All registrar-verified rosters must be received by USA Ultimate no later than 5:00 p.m. MT Wednesday, September 29, 2021.
*If playing with graduated students, collect your club sports/student organizations' contact information, along with proof of graduation date and degree (see College Series Guidelines). You will be asked to provide this information.
Complete and submit the graduated student form.
All teams, regardless of whether or not graduated students are participating, must fill out the form by 5:00 p.m. MT on Wednesday, September 29.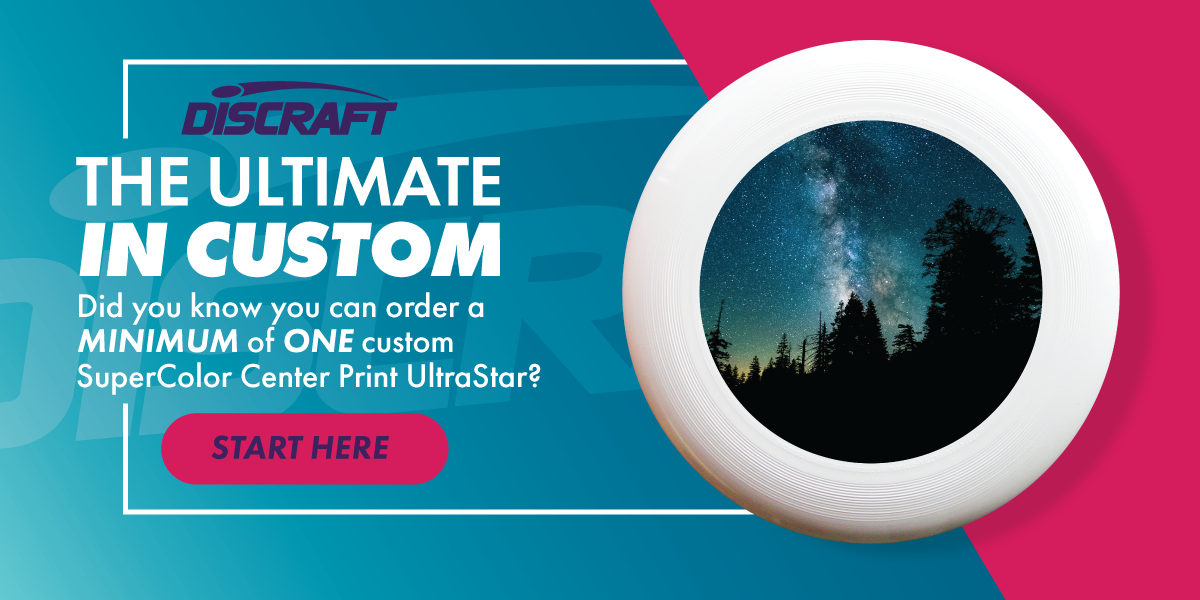 2021 Team Roster Status
As teams submit their registrar verified roster for the 2021 College Series, we'll use the roster log list below to indicate a team's roster status.
Women
| Team | Arrival Date | Status | Region | Conference | Division | Graduated Students | D-I Pathway Election |
| --- | --- | --- | --- | --- | --- | --- | --- |
| Abilene Christian | | | South Central | South Central D-III | South Central D-III | | Women |
| Air Force | | | South Central | South Central D-III | South Central D-III | | Women |
| Akron | | | Ohio Valley | Ohio D-I | Ohio D-I | | Women |
| Alabama | | | Southeast | Gulf Coast D-I | Gulf Coast D-I | | Women |
| Alabama-Birmingham | | | Southeast | Gulf Coast D-I | Gulf Coast D-I | | Women |
| Alabama-Huntsville | | | Southeast | Gulf Coast D-I | Gulf Coast D-I | | Women |
| Allegheny | | | Ohio Valley | Pennsylvania D-III | Pennsylvania D-III | | Women |
| American | | | Atlantic Coast | Colonial D-I | Colonial D-I | | Women |
| American-B | | | Atlantic Coast | Atlantic Coast Dev | Atlantic Coast Dev | | Women |
| Amherst | | | New England | South New England D-III | South New England D-III | | Women |
| Amherst B | | | New England | New England Dev | New England Dev | | Women |
| Appalachian State | | | Atlantic Coast | Carolina D-I | Carolina D-I | | Women |
| Arizona | | | Southwest | Desert D-I | Desert D-I | | Women |
| Arizona State | | | Southwest | Desert D-I | Desert D-I | | Women |
| Arizona-B | | | Southwest | Southwest Dev | Southwest Dev | | Women |
| Arkansas | | | South Central | Ozarks D-I | Ozarks D-I | | Women |
| Armstrong | | | Southeast | Southern Appalachian D-I | Southern Appalachian D-I | | Women |
| Auburn | | | Southeast | Gulf Coast D-I | Gulf Coast D-I | | Women |
| Ball State | | | Great Lakes | Eastern Great Lakes D-I | Eastern Great Lakes D-I | | Women |
| Bates | | | New England | North New England D-III | North New England D-III | | Women |
| Bates-B | | | New England | New England Dev | New England Dev | | Women |
| Baylor | | | South Central | Texas D-I | Texas D-I | | Women |
| Belmont | | | Southeast | Southeast D-III | Southeast D-III | | Women |
| Beloit | | | North Central | North Central D-III | North Central D-III | | Women |
| Bentley | | | New England | Metro Boston D-III | Metro Boston D-III | | Women |
| Bentley-B | | | New England | New England Dev | New England Dev | | Women |
| Berry | | | Southeast | Southeast D-III | Southeast D-III | | Women |
| Bloomsburg | | | Ohio Valley | Pennsylvania D-I | Pennsylvania D-I | | Women |
| Boise State | | | Northwest | Big Sky D-I | Big Sky D-I | | Women |
| Boston College | | | New England | Metro Boston D-I | Metro Boston D-I | | Women |
| Boston College-B | | | New England | New England Dev | New England Dev | | Women |
| Boston University | | | New England | Metro Boston D-I | Metro Boston D-I | | Women |
| Boston University-B | | | New England | New England Dev | New England Dev | | Women |
| Bowdoin | | | New England | North New England D-III | North New England D-III | | Women |
| Bowdoin-B | | | New England | New England Dev | New England Dev | | Women |
| Bradley | | | Great Lakes | Great Lakes D-III | Great Lakes D-III | | Women |
| Brandeis | | | New England | Metro Boston D-III | Metro Boston D-III | | Women |
| Brigham Young | | | Northwest | Big Sky D-I | Big Sky D-I | | Women |
| British Columbia | | | Northwest | Cascadia D-I | Cascadia D-I | | Women |
| Brown | | | New England | Greater New England D-I | Greater New England D-I | | Women |
| Brown-B | | | New England | New England Dev | New England Dev | | Women |
| Brown-C | | | New England | New England Dev | New England Dev | | Women |
| Bucknell | | | Ohio Valley | Pennsylvania D-III | Pennsylvania D-III | | Women |
| Cal Poly-Pomona | | | Southwest | SoCal D-I | SoCal D-I | | Women |
| Cal Poly-SLO | | | Southwest | SoCal D-I | SoCal D-I | | Women |
| Cal Poly-SLO-B | | | Southwest | Southwest Dev | Southwest Dev | | Women |
| Cal State-Long Beach | | | Southwest | SoCal D-I | SoCal D-I | | Women |
| California | | | Southwest | NorCal D-I | NorCal D-I | | Women |
| California-B | | | Southwest | Southwest Dev | Southwest Dev | | Women |
| California-C | | | Southwest | Southwest Dev | Southwest Dev | | Women |
| California-Davis | | | Southwest | NorCal D-I | NorCal D-I | | Women |
| California-Davis-B | | | Southwest | Southwest Dev | Southwest Dev | | Women |
| California-Irvine | | | Southwest | SoCal D-I | SoCal D-I | | Women |
| California-San Diego | | | Southwest | SoCal D-I | SoCal D-I | | Women |
| California-San Diego-B | | | Southwest | Southwest Dev | Southwest Dev | | Women |
| California-Santa Barbara | | | Southwest | SoCal D-I | SoCal D-I | | Women |
| California-Santa Barbara-B | | | Southwest | Southwest Dev | Southwest Dev | | Women |
| California-Santa Cruz | | | Southwest | NorCal D-I | NorCal D-I | | Women |
| Caltech | | | Southwest | SoCal D-I | SoCal D-I | | Women |
| Canisius College | | | Metro East | Western NY D-III | Western NY D-III | | Women |
| Carleton College | | | North Central | Western North Central D-I | Western North Central D-I | | Women |
| Carleton College-C | | | North Central | North Central D-III | North Central D-III | | Women |
| Carleton College-Eclipse | | | North Central | North Central D-III | North Central D-III | | Women |
| Carleton University | | | Metro East | Western NY D-I | Western NY D-I | | Women |
| Carnegie-Mellon | | | Ohio Valley | Pennsylvania D-I | Pennsylvania D-I | | Women |
| Carnegie-Mellon B | | | Ohio Valley | Pennsylvania D-I | Pennsylvania D-I | | Women |
| Case Western Reserve | | | Ohio Valley | Ohio D-I | Ohio D-I | | Women |
| Case Western Reserve-B | | | Ohio Valley | Ohio D-I | Ohio D-I | | Women |
| Catholic | | | Atlantic Coast | Atlantic Coast D-III | Atlantic Coast D-III | | Women |
| Cedarville | | | Ohio Valley | Ohio D-III | Ohio D-III | | Women |
| Central Arkansas | | | South Central | Ozarks D-I | Ozarks D-I | | Women |
| Central Connecticut State | | | Metro East | Eastern Metro East D-I | Eastern Metro East D-I | | Women |
| Central Florida | | | Southeast | Florida D-I | Florida D-I | | Women |
| Central Florida-B | | | Southeast | Florida D-I | Florida D-I | | Women |
| Central Michigan | | | Great Lakes | Eastern Great Lakes D-I | Eastern Great Lakes D-I | | Women |
| Charleston | | | Atlantic Coast | Carolina D-I | Carolina D-I | | Women |
| Chicago | | | Great Lakes | Illinois D-I | Illinois D-I | | Women |
| Chicago-B | | | Great Lakes | Illinois D-I | Illinois D-I | | Women |
| Chico State | | | Southwest | NorCal D-I | NorCal D-I | | Women |
| Christopher Newport | | | Atlantic Coast | Atlantic Coast D-III | Atlantic Coast D-III | | Women |
| Cincinnati | | | Ohio Valley | Ohio D-I | Ohio D-I | | Women |
| City College (New York) | | | Metro East | Eastern Metro East D-I | Eastern Metro East D-I | | Women |
| Claremont | | | Southwest | SoCal D-I | SoCal D-I | | Women |
| Clark | | | New England | South New England D-III | South New England D-III | | Women |
| Clemson | | | Atlantic Coast | Carolina D-I | Carolina D-I | | Women |
| Cleveland State | | | Ohio Valley | Ohio D-I | Ohio D-I | | Women |
| Colby | | | New England | North New England D-III | North New England D-III | | Women |
| Colby-B | | | New England | North New England Dev | North New England Dev | | Women |
| Colgate | | | Metro East | Western NY D-III | Western NY D-III | | Women |
| College of New Jersey | | | Metro East | Eastern Metro East D-III | Eastern Metro East D-III | | Women |
| Colorado | | | South Central | Rocky Mountain D-I | Rocky Mountain D-I | | Women |
| Colorado College | | | South Central | Rocky Mountain D-I | Rocky Mountain D-I | | Women |
| Colorado College-B | | | South Central | Rocky Mountain D-I | Rocky Mountain D-I | | Women |
| Colorado Mines | | | South Central | South Central D-III | South Central D-III | | Women |
| Colorado State | | | South Central | Rocky Mountain D-I | Rocky Mountain D-I | | Women |
| Colorado-B | | | South Central | Rocky Mountain D-I | Rocky Mountain D-I | | Women |
| Colorado-Denver | | | South Central | Rocky Mountain D-I | Rocky Mountain D-I | | Women |
| Columbia | | | Metro East | Eastern Metro East D-I | Eastern Metro East D-I | | Women |
| Columbia - B | | | Metro East | Eastern Metro East D-I | Eastern Metro East D-I | | Women |
| Connecticut | | | Metro East | Eastern Metro East D-I | Eastern Metro East D-I | | Women |
| Connecticut College | | | Metro East | Eastern Metro East D-III | Eastern Metro East D-III | | Women |
| Connecticut-B | | | Metro East | Eastern Metro East D-I | Eastern Metro East D-I | | Women |
| Cornell | | | Metro East | Western NY D-I | Western NY D-I | | Women |
| Cornell College | | | North Central | North Central D-III | North Central D-III | | Women |
| Cornell-B | | | Metro East | Western NY D-I | Western NY D-I | | Women |
| Dallas | | | South Central | South Central D-III | South Central D-III | | Women |
| Dartmouth | | | New England | Greater New England D-I | Greater New England D-I | | Women |
| Dartmouth-B | | | New England | New England Dev | New England Dev | | Women |
| Davidson | | | Atlantic Coast | Atlantic Coast D-III | Atlantic Coast D-III | | Women |
| Dayton | | | Ohio Valley | Ohio D-I | Ohio D-I | | Women |
| Delaware | | | Atlantic Coast | Colonial D-I | Colonial D-I | | Women |
| Delaware-B | | | Atlantic Coast | Atlantic Coast Dev | Atlantic Coast Dev | | Women |
| Denison | | | Ohio Valley | Ohio D-III | Ohio D-III | | Women |
| Denver | | | South Central | Rocky Mountain D-I | Rocky Mountain D-I | | Women |
| DePaul | | | Great Lakes | Illinois D-I | Illinois D-I | | Women |
| Dickinson | | | Ohio Valley | Pennsylvania D-III | Pennsylvania D-III | | Women |
| Drake | | | North Central | North Central D-III | North Central D-III | | Women |
| Drexel | | | Ohio Valley | Pennsylanvia D-I | Pennsylanvia D-I | | Women |
| Drury | | | South Central | South Central D-III | South Central D-III | | Women |
| Duke | | | Atlantic Coast | Carolina D-I | Carolina D-I | | Women |
| Earlham | | | Great Lakes | Great Lakes D-III | Great Lakes D-III | | Women |
| East Carolina | | | Atlantic Coast | Carolina D-I | Carolina D-I | | Women |
| Eastern Illinois | | | Great Lakes | Illinois D-I | Illinois D-I | | Women |
| Eastern Michigan | | | Great Lakes | Eastern Great Lakes D-I | Eastern Great Lakes D-I | | Women |
| Edinboro | | | Ohio Valley | Pennsylvania D-I | Pennsylvania D-I | | Women |
| Elon | | | Atlantic Coast | Atlantic Coast D-III | Atlantic Coast D-III | | Women |
| Emory | | | Southeast | Southern Appalachian D-I | Southern Appalachian D-I | | Women |
| Emory-B | | | Southeast | Southern Appalachian D-I | Southern Appalachian D-I | | Women |
| Florida | | | Southeast | Florida D-I | Florida D-I | | Women |
| Florida State | | | Southeast | Florida D-I | Florida D-I | | Women |
| Florida State-B | | | Southeast | Florida D-I | Florida D-I | | Women |
| Florida Tech | | | Southeast | Southeast D-III | Southeast D-III | | Women |
| Florida-B | | | Southeast | Florida D-I | Florida D-I | | Women |
| Fordham | | | Metro East | Eastern Metro East D-I | Eastern Metro East D-I | | Women |
| Franciscan | | | Ohio Valley | Ohio D-III | Ohio D-III | | Women |
| Franklin & Marshall | | | Ohio Valley | Pennsylvania D-III | Pennsylvania D-III | | Women |
| Gannon | | | Ohio Valley | Pennsylvania D-III | Pennsylvania D-III | | Women |
| George Mason | | | Atlantic Coast | Virginia D-I | Virginia D-I | | Women |
| George Washington | | | Atlantic Coast | Colonial D-I | Colonial D-I | | Women |
| George Washington-B | | | Atlantic Coast | Atlantic Coast Dev | Atlantic Coast Dev | | Women |
| Georgetown | | | Atlantic Coast | Colonial D-I | Colonial D-I | | Women |
| Georgetown-B | | | Atlantic Coast | Atlantic Coast Dev | Atlantic Coast Dev | | Women |
| Georgia | | | Southeast | Southern Appalachian D-I | Southern Appalachian D-I | | Women |
| Georgia College | | | Southeast | Southeast D-III | Southeast D-III | | Women |
| Georgia Southern | | | Southeast | Southern Appalachian D-I | Southern Appalachian D-I | | Women |
| Georgia State | | | Southeast | Southern Appalachian D-I | Southern Appalachian D-I | | Women |
| Georgia Tech | | | Southeast | Southern Appalachian D-I | Southern Appalachian D-I | | Women |
| Georgia Tech-B | | | Southeast | Southern Appalachian D-I | Southern Appalachian D-I | | Women |
| Georgia-B | | | Southeast | Southern Appalachian D-I | Southern Appalachian D-I | | Women |
| Gettysburg | | | Ohio Valley | Pennsylvania D-III | Pennsylvania D-III | | Women |
| Gonzaga | | | Northwest | Big Sky D-I | Big Sky D-I | | Women |
| Goucher | | | Atlantic Coast | Atlantic Coast D-III | Atlantic Coast D-III | | Women |
| Grand Valley | | | Great Lakes | Eastern Great Lakes D-I | Eastern Great Lakes D-I | | Women |
| Grinnell | | | North Central | North Central D-III | North Central D-III | | Women |
| Grinnell-B | | | North Central | North Central D-III | North Central D-III | | Women |
| Gustavus Adolphus | | | North Central | North Central D-III | North Central D-III | | Women |
| Hamilton | | | Metro East | Western NY D-III | Western NY D-III | | Women |
| Hampshire | | | New England | South New England D-III | South New England D-III | | Women |
| Harding | | | South Central | South Central D-III | South Central D-III | | Women |
| Hartford | | | Metro East | Eastern Metro East D-III | Eastern Metro East D-III | | Women |
| Harvard | | | New England | Metro Boston D-I | Metro Boston D-I | | Women |
| Harvard-B | | | New England | New England Dev | New England Dev | | Women |
| Haverford | | | Ohio Valley | Pennsylvania D-III | Pennsylvania D-III | | Women |
| Haverford-B | | | Ohio Valley | Pennsylvania D-III | Pennsylvania D-III | | Women |
| Hendrix | | | South Central | South Central D-III | South Central D-III | | Women |
| Hendrix-B | | | South Central | South Central D-III | South Central D-III | | Women |
| Hofstra | | | Metro East | Eastern Metro East D-I | Eastern Metro East D-I | | Women |
| Holy Cross | | | New England | North New England D-III | North New England D-III | | Women |
| Houston | | | South Central | Texas D-I | Texas D-I | | Women |
| Humboldt State | | | Southwest | NorCal D-I | NorCal D-I | | Women |
| Idaho | | | Northwest | Big Sky D-I | Big Sky D-I | | Women |
| Illinois | | | Great Lakes | Illinois D-I | Illinois D-I | | Women |
| Illinois State | | | Great Lakes | Illinois D-I | Illinois D-I | | Women |
| Illinois-B | | | Great Lakes | Illinois D-I | Illinois D-I | | Women |
| Illinois-Chicago | | | Great Lakes | Illinois D-I | Illinois D-I | | Women |
| Indiana | | | Great Lakes | Eastern Great Lakes D-I | Eastern Great Lakes D-I | | Women |
| Indiana (Pennsylvania) | | | Ohio Valley | Pennsylvania D-I | Pennsylvania D-I | | Women |
| Iowa | | | North Central | Western North Central D-I | Western North Central D-I | | Women |
| Iowa State | | | North Central | Western North Central D-I | Western North Central D-I | | Women |
| Iowa-B | | | North Central | Western North Central D-I | Western North Central D-I | | Women |
| Ithaca | | | Metro East | Western NY D-III | Western NY D-III | | Women |
| Jacksonville State | | | Southeast | Gulf Coast D-I | Gulf Coast D-I | | Women |
| James Madison | | | Atlantic Coast | Virginia D-I | Virginia D-I | | Women |
| James Madison-B | | | Atlantic Coast | Atlantic Coast Dev | Atlantic Coast Dev | | Women |
| Jefferson | | | Ohio Valley | Pennsylvania D-III | Pennsylvania D-III | | Women |
| John Brown | | | South Central | South Central D-III | South Central D-III | | Women |
| John Carroll | | | Ohio Valley | Ohio D-III | Ohio D-III | | Women |
| Johns Hopkins | | | Atlantic Coast | Colonial D-I | Colonial D-I | | Women |
| Kalamazoo | | | Great Lakes | Great Lakes D-III | Great Lakes D-III | | Women |
| Kansas | | | South Central | Ozarks D-I | Ozarks D-I | | Women |
| Kansas State | | | South Central | Ozarks D-I | Ozarks D-I | | Women |
| Kansas-B | | | South Central | Ozarks D-I | Ozarks D-I | | Women |
| Kennesaw State | | | Southeast | Southern Appalachian D-I | Southern Appalachian D-I | | Women |
| Kentucky | | | Great Lakes | Eastern Great Lakes D-I | Eastern Great Lakes D-I | | Women |
| Kenyon | | | Ohio Valley | Ohio D-III | Ohio D-III | | Women |
| Kenyon-B | | | Ohio Valley | Ohio D-III | Ohio D-III | | Women |
| Knox | | | Great Lakes | Great Lakes D-III | Great Lakes D-III | | Women |
| Lawrence | | | North Central | North Central D-III | North Central D-III | | Women |
| Lehigh | | | Ohio Valley | Pennsylvania D-III | Pennsylvania D-III | | Women |
| Lehigh-B | | | Ohio Valley | Pennsylvania D-III | Pennsylvania D-III | | Women |
| Lewis | | | Great Lakes | Great Lakes D-III | Great Lakes D-III | | Women |
| Lewis & Clark | | | Northwest | Northwest D-III | Northwest D-III | | Women |
| Liberty | | | Atlantic Coast | Virginia D-I | Virginia D-I | | Women |
| Loyola-Chicago | | | Great Lakes | Illinois D-I | Illinois D-I | | Women |
| LSU | | | Southeast | Gulf Coast D-I | Gulf Coast D-I | | Women |
| Luther | | | North Central | North Central D-III | North Central D-III | | Women |
| Macalester | | | North Central | North Central D-III | North Central D-III | | Women |
| Macalester-B | | | North Central | North Central D-III | North Central D-III | | Women |
| Maine | | | New England | Greater New England D-I | Greater New England D-I | | Women |
| Maine-Farmington | | | New England | North New England D-III | North New England D-III | | Women |
| Marist | | | Metro East | Eastern Metro East D-III | Eastern Metro East D-III | | Women |
| Marquette | | | North Central | Lake Superior D-I | Lake Superior D-I | | Women |
| Mary Washington | | | Atlantic Coast | Atlantic Coast D-III | Atlantic Coast D-III | | Women |
| Maryland | | | Atlantic Coast | Colonial D-I | Colonial D-I | | Women |
| Maryland-B | | | Atlantic Coast | Atlantic Coast Dev | Atlantic Coast Dev | | Women |
| Maryland-Baltimore County | | | Atlantic Coast | Colonial D-I | Colonial D-I | | Women |
| Massachusetts | | | New England | Greater New England D-I | Greater New England D-I | | Women |
| Massachusetts-B | | | New England | New England Dev | New England Dev | | Women |
| Messiah | | | Ohio Valley | Pennsylvania D-III | Pennsylvania D-III | | Women |
| Miami | | | Southeast | Florida D-I | Florida D-I | | Women |
| Miami (Ohio) | | | Ohio Valley | Ohio D-I | Ohio D-I | | Women |
| Michigan | | | Great Lakes | Eastern Great Lakes D-I | Eastern Great Lakes D-I | | Women |
| Michigan State | | | Great Lakes | Eastern Great Lakes D-I | Eastern Great Lakes D-I | | Women |
| Michigan Tech | | | North Central | North Central D-III | North Central D-III | | Women |
| Michigan-B | | | Great Lakes | Eastern Great Lakes D-I | Eastern Great Lakes D-I | | Women |
| Middlebury | | | New England | North New England D-III | North New England D-III | | Women |
| Middlebury-B | | | New England | New England Dev | New England Dev | | Women |
| Millersville | | | Ohio Valley | Pennsylvania D-I | Pennsylvania D-I | | Women |
| Minnesota | | | North Central | Western North Central D-I | Western North Central D-I | | Women |
| Minnesota State-Mankato | | | North Central | Western North Central D-I | Western North Central D-I | | Women |
| Minnesota-B | | | North Central | Western North Central D-I | Western North Central D-I | | Women |
| Minnesota-Duluth | | | North Central | Western North Central D-I | Western North Central D-I | | Women |
| Mississippi | | | Southeast | Gulf Coast D-I | Gulf Coast D-I | | Women |
| Mississippi State | | | Southeast | Gulf Coast D-I | Gulf Coast D-I | | Women |
| Missouri | | | South Central | Ozarks D-I | Ozarks D-I | | Women |
| Missouri S&T | | | South Central | South Central D-III | South Central D-III | | Women |
| Missouri State | | | South Central | Ozarks D-I | Ozarks D-I | | Women |
| MIT | | | New England | Metro Boston D-I | Metro Boston D-I | | Women |
| MIT-B | | | New England | New England Dev | New England Dev | | Women |
| Montana | | | Northwest | Big Sky D-I | Big Sky D-I | | Women |
| Montana State | | | Northwest | Big Sky D-I | Big Sky D-I | | Women |
| Montana-B | | | Northwest | Big Sky D-I | Big Sky D-I | | Women |
| Mount Holyoke | | | New England | South New England D-III | South New England D-III | | Women |
| Muhlenberg | | | Ohio Valley | Pennsylvania D-III | Pennsylvania D-III | | Women |
| Nebraska | | | North Central | Western North Central D-I | Western North Central D-I | | Women |
| Nevada-Reno | | | Southwest | NorCal D-I | NorCal D-I | | Women |
| New Hampshire | | | New England | Greater New England D-I | Greater New England D-I | | Women |
| New Hampshire-B | | | New England | New England Dev | New England Dev | | Women |
| New Mexico | | | Southwest | Desert D-I | Desert D-I | | Women |
| North Carolina | | | Atlantic Coast | Carolina D-I | Carolina D-I | | Women |
| North Carolina State | | | Atlantic Coast | Carolina D-I | Carolina D-I | | Women |
| North Carolina-Asheville | | | Atlantic Coast | Atlantic Coast D-III | Atlantic Coast D-III | | Women |
| North Carolina-B | | | Atlantic Coast | Atlantic Coast Dev | Atlantic Coast Dev | | Women |
| North Carolina-Charlotte | | | Atlantic Coast | Carolina D-I | Carolina D-I | | Women |
| North Carolina-Greensboro | | | Atlantic Coast | Carolina D-I | Carolina D-I | | Women |
| North Carolina-Wilmington | | | Atlantic Coast | Carolina D-I | Carolina D-I | | Women |
| North Georgia | | | Southeast | Southeast D-III | Southeast D-III | | Women |
| North Park | | | Great Lakes | Great Lakes D-III | Great Lakes D-III | | Women |
| North Texas | | | South Central | Texas D-I | Texas D-I | | Women |
| Northeastern | | | New England | Metro Boston D-I | Metro Boston D-I | | Women |
| Northeastern-B | | | New England | New England Dev | New England Dev | | Women |
| Northern Arizona | | | Southwest | Desert D-I | Desert D-I | | Women |
| Northern Iowa | | | North Central | Western North Central D-I | Western North Central D-I | | Women |
| Northern Michigan | | | North Central | Lake Superior D-I | Lake Superior D-I | | Women |
| Northwestern | | | Great Lakes | Illinois D-I | Illinois D-I | | Women |
| Northwestern-B | | | Great Lakes | Illinois D-I | Illinois D-I | | Women |
| Notre Dame | | | Great Lakes | Eastern Great Lakes D-I | Eastern Great Lakes D-I | | Women |
| Notre Dame-B | | | Great Lakes | Eastern Great Lakes D-I | Eastern Great Lakes D-I | | Women |
| NYU | | | Metro East | Eastern Metro East D-I | Eastern Metro East D-I | | Women |
| NYU-B | | | Metro East | Eastern Metro East D-I | Eastern Metro East D-I | | Women |
| Oberlin | | | Ohio Valley | Ohio D-III | Ohio D-III | | Women |
| Oberlin-B | | | Ohio Valley | Ohio D-III | Ohio D-III | | Women |
| Occidental | | | Southwest | SoCal D-I | SoCal D-I | | Women |
| Ohio | | | Ohio Valley | Ohio D-I | Ohio D-I | | Women |
| Ohio Northern | | | Ohio Valley | Ohio D-III | Ohio D-III | | Women |
| Ohio State | | | Ohio Valley | Ohio D-I | Ohio D-I | | Women |
| Ohio State-B | | | Ohio Valley | Ohio D-I | Ohio D-I | | Women |
| Ohio Wesleyan | | | Ohio Valley | Ohio D-III | Ohio D-III | | Women |
| Oklahoma | | | South Central | Ozarks D-I | Ozarks D-I | | Women |
| Oklahoma State | | | South Central | Ozarks D-I | Ozarks D-I | | Women |
| Olin | | | New England | Metro Boston D-III | Metro Boston D-III | | Women |
| Olivet Nazarene | | | Great Lakes | Great Lakes D-III | Great Lakes D-III | | Women |
| Oregon | | | Northwest | Cascadia D-I | Cascadia D-I | | Women |
| Oregon State | | | Northwest | Cascadia D-I | Cascadia D-I | | Women |
| Oregon State-B | | | Northwest | Cascadia D-I | Cascadia D-I | | Women |
| Ottawa | | | Metro East | Western NY D-I | Western NY D-I | | Women |
| Pacific | | | Northwest | Northwest D-III | Northwest D-III | | Women |
| Pacific Lutheran | | | Northwest | Northwest D-III | Northwest D-III | | Women |
| Penn State | | | Ohio Valley | Pennsylvania D-I | Pennsylvania D-I | | Women |
| Pennsylvania | | | Ohio Valley | Pennsylvania D-I | Pennsylvania D-I | | Women |
| Pennsylvania-B | | | Ohio Valley | Pennsylvania D-I | Pennsylvania D-I | | Women |
| Pittsburgh | | | Ohio Valley | Pennsylvania D-I | Pennsylvania D-I | | Women |
| Pittsburgh-B | | | Ohio Valley | Pennsylvania D-I | Pennsylvania D-I | | Women |
| Portland | | | Northwest | Northwest D-III | Northwest D-III | | Women |
| Portland State | | | Northwest | Cascadia D-I | Cascadia D-I | | Women |
| Princeton | | | Metro East | Eastern Metro East D-I | Eastern Metro East D-I | | Women |
| Princeton B | | | Metro East | Eastern Metro East D-I | Eastern Metro East D-I | | Women |
| Providence | | | New England | South New England D-III | South New England D-III | | Women |
| Puget Sound | | | Northwest | Northwest D-III | Northwest D-III | | Women |
| Purdue | | | Great Lakes | Eastern Great Lakes D-I | Eastern Great Lakes D-I | | Women |
| Queens-Kingston | | | Metro East | Western NY D-I | Western NY D-I | | Women |
| Ramapo | | | Metro East | Eastern Metro East D-III | Eastern Metro East D-III | | Women |
| Redlands | | | Southwest | SoCal D-I | SoCal D-I | | Women |
| Reed | | | Northwest | Northwest D-III | Northwest D-III | | Women |
| Rensselaer Polytech | | | Metro East | Eastern Metro East D-III | Eastern Metro East D-III | | Women |
| Rhode Island | | | New England | Greater New England D-I | Greater New England D-I | | Women |
| Rhode Island College | | | New England | Greater New England D-I | Greater New England D-I | | Women |
| Rhode Island-B | | | New England | New England Dev | New England Dev | | Women |
| Rhodes | | | Southeast | Gulf Coast D-I | Gulf Coast D-I | | Women |
| Rice | | | South Central | South Central D-III | South Central D-III | | Women |
| Richmond | | | Atlantic Coast | Atlantic Coast D-III | Atlantic Coast D-III | | Women |
| RIT | | | Metro East | Western NY D-I | Western NY D-I | | Women |
| Roanoke | | | Atlantic Coast | Atlantic Coast D-III | Atlantic Coast D-III | | Women |
| Rochester | | | Metro East | Western NY D-III | Western NY D-III | | Women |
| Roger Williams | | | New England | South New England D-III | South New England D-III | | Women |
| Rowan | | | Metro East | Eastern Metro East D-I | Eastern Metro East D-I | | Women |
| Rutgers | | | Metro East | Eastern Metro East D-I | Eastern Metro East D-I | | Women |
| Saint Louis | | | South Central | Ozarks D-I | Ozarks D-I | | Women |
| Salisbury | | | Atlantic Coast | Colonial D-I | Colonial D-I | | Women |
| Sam Houston State | | | South Central | Texas D-I | Texas D-I | | Women |
| Samford | | | Southeast | Gulf Coast D-I | Gulf Coast D-I | | Women |
| San Diego State | | | Southwest | SoCal D-I | SoCal D-I | | Women |
| San Diego State-B | | | Southwest | Southwest Dev | Southwest Dev | | Women |
| San Francisco State | | | Southwest | NorCal D-I | NorCal D-I | | Women |
| Santa Clara | | | Southwest | NorCal D-I | NorCal D-I | | Women |
| Santa Clara-B | | | Southwest | Southwest Dev | Southwest Dev | | Women |
| Savannah Art & Design | | | Southeast | Southern Appalachian D-I | Southern Appalachian D-I | | Women |
| Scranton | | | Ohio Valley | Pennsylvania D-III | Pennsylvania D-III | | Women |
| Seattle | | | Northwest | Northwest D-III | Northwest D-III | | Women |
| Shippensburg | | | Ohio Valley | Pennsylvania D-III | Pennsylvania D-III | | Women |
| Simon Fraser | | | Northwest | Cascadia D-I | Cascadia D-I | | Women |
| Skidmore | | | Metro East | Eastern Metro East D-III | Eastern Metro East D-III | | Women |
| Smith | | | New England | South New England D-III | South New England D-III | | Women |
| Smith-B | | | New England | New England Dev | New England Dev | | Women |
| Sonoma State | | | Southwest | NorCal D-I | NorCal D-I | | Women |
| South Carolina | | | Atlantic Coast | Carolina D-I | Carolina D-I | | Women |
| South Florida | | | Southeast | Florida D-I | Florida D-I | | Women |
| Southern California | | | Southwest | SoCal D-I | SoCal D-I | | Women |
| Southern California-B | | | Southwest | Southwest Dev | Southwest Dev | | Women |
| Southern Illinois | | | Great Lakes | Illinois D-I | Illinois D-I | | Women |
| Southern Indiana | | | Great Lakes | Eastern Great Lakes D-I | Eastern Great Lakes D-I | | Women |
| Southern Mississippi | | | Southeast | Gulf Coast D-I | Gulf Coast D-I | | Women |
| Spring Hill | | | Southeast | Gulf Coast D-I | Gulf Coast D-I | | Women |
| St Benedict | | | North Central | North Central D-III | North Central D-III | | Women |
| St Lawrence | | | Metro East | Western NY D-III | Western NY D-III | | Women |
| St Mary's (Maryland) | | | Atlantic Coast | Atlantic Coast D-III | Atlantic Coast D-III | | Women |
| St Olaf | | | North Central | North Central D-III | North Central D-III | | Women |
| St Olaf-B | | | North Central | North Central D-III | North Central D-III | | Women |
| St Thomas | | | North Central | Western North Central D-I | Western North Central D-I | | Women |
| Stanford | | | Southwest | NorCal D-I | NorCal D-I | | Women |
| Stanford-B | | | Southwest | Southwest Dev | Southwest Dev | | Women |
| Stonehill | | | New England | Metro Boston D-III | Metro Boston D-III | | Women |
| SUNY-Albany | | | Metro East | Eastern Metro East D-I | Eastern Metro East D-I | | Women |
| SUNY-Binghamton | | | Metro East | Western NY D-I | Western NY D-I | | Women |
| SUNY-Brockport | | | Metro East | Western NY D-I | Western NY D-I | | Women |
| SUNY-Buffalo | | | Metro East | Western NY D-I | Western NY D-I | | Women |
| SUNY-Cortland | | | Metro East | Western NY D-III | Western NY D-III | | Women |
| SUNY-Fredonia | | | Metro East | Western NY D-III | Western NY D-III | | Women |
| SUNY-Geneseo | | | Metro East | Western NY D-III | Western NY D-III | | Women |
| SUNY-New Paltz | | | Metro East | Eastern Metro East D-I | Eastern Metro East D-I | | Women |
| SUNY-Oneonta | | | Metro East | Western NY D-III | Western NY D-III | | Women |
| SUNY-Purchase | | | Metro East | Eastern Metro East D-III | Eastern Metro East D-III | | Women |
| SUNY-Stony Brook | | | Metro East | Eastern Metro East D-I | Eastern Metro East D-I | | Women |
| Swarthmore | | | Ohio Valley | Pennsylvania D-III | Pennsylvania D-III | | Women |
| Swarthmore B | | | Ohio Valley | Pennsylvania D-III | Pennsylvania D-III | | Women |
| Syracuse | | | Metro East | Western NY D-I | Western NY D-I | | Women |
| Temple | | | Ohio Valley | Pennsylvania D-I | Pennsylvania D-I | | Women |
| Temple-B | | | Ohio Valley | Pennsylvania D-I | Pennsylvania D-I | | Women |
| Tennessee | | | Southeast | Southern Appalachian D-I | Southern Appalachian D-I | | Women |
| Tennessee-Chattanooga | | | Southeast | Southern Appalachian D-I | Southern Appalachian D-I | | Women |
| Texas | | | South Central | Texas D-I | Texas D-I | | Women |
| Texas A&M | | | South Central | Texas D-I | Texas D-I | | Women |
| Texas Christian | | | South Central | Texas D-I | Texas D-I | | Women |
| Texas State | | | South Central | Texas D-I | Texas D-I | | Women |
| Texas-Arlington | | | South Central | Texas D-I | Texas D-I | | Women |
| Texas-B | | | South Central | Texas D-I | Texas D-I | | Women |
| Texas-Dallas | | | South Central | North Texas D-I | North Texas D-I | | Women |
| Texas-San Antonio | | | South Central | Texas D-I | Texas D-I | | Women |
| Toledo | | | Ohio Valley | Ohio D-I | Ohio D-I | | Women |
| Toronto | | | Metro East | Western NY D-I | Western NY D-I | | Women |
| Towson | | | Atlantic Coast | Colonial D-I | Colonial D-I | | Women |
| Towson-B | | | Atlantic Coast | Atlantic Coast Dev | Atlantic Coast Dev | | Women |
| Trinity | | | South Central | South Central D-III | South Central D-III | | Women |
| Truman State | | | South Central | South Central D-III | South Central D-III | | Women |
| Tufts | | | New England | Metro Boston D-I | Metro Boston D-I | | Women |
| Tufts-B | | | New England | New England Dev | New England Dev | | Women |
| Tufts-C | | | New England | New England Dev | New England Dev | | Women |
| Tulane | | | Southeast | Gulf Coast D-I | Gulf Coast D-I | | Women |
| Tulsa | | | South Central | South Central | South Central | | Women |
| UCLA | | | Southwest | SoCal D-I | SoCal D-I | | Women |
| UCLA-B | | | Southwest | Southwest Dev | Southwest Dev | | Women |
| Union | | | Metro East | Eastern Metro East D-III | Eastern Metro East D-III | | Women |
| Union (Tennessee) | | | Southeast | Southeast D-III | Southeast D-III | | Women |
| Utah | | | Northwest | Big Sky D-I | Big Sky D-I | | Women |
| Utah State | | | Northwest | Big Sky D-I | Big Sky D-I | | Women |
| Valparaiso | | | Great Lakes | Great Lakes D-III | Great Lakes D-III | | Women |
| Vanderbilt | | | Southeast | Gulf Coast D-I | Gulf Coast D-I | | Women |
| Vassar | | | Metro East | Eastern Metro East D-III | Eastern Metro East D-III | | Women |
| Vassar-B | | | Metro East | Eastern Metro East D-III | Eastern Metro East D-III | | Women |
| Vermont | | | New England | Greater New England D-I | Greater New England D-I | | Women |
| Vermont-B | | | New England | New England Dev | New England Dev | | Women |
| Vermont-C | | | New England | New England Dev | New England Dev | | Women |
| Victoria | | | Northwest | Cascadia D-I | Cascadia D-I | | Women |
| Virginia | | | Atlantic Coast | Virginia D-I | Virginia D-I | | Women |
| Virginia Commonwealth | | | Atlantic Coast | Virginia D-I | Virginia D-I | | Women |
| Virginia Tech | | | Atlantic Coast | Virginia D-I | Virginia D-I | | Women |
| Virginia-B | | | Atlantic Coast | Atlantic Coast Dev | Atlantic Coast Dev | | Women |
| Wake Forest | | | Atlantic Coast | Carolina D-I | Carolina D-I | | Women |
| Washington | | | Northwest | Cascadia D-I | Cascadia D-I | | Women |
| Washington University | | | South Central | Ozarks D-I | Ozarks D-I | | Women |
| Washington University-B | | | South Central | Ozarks D-I | Ozarks D-I | | Women |
| Washington-B | | | Northwest | Cascadia D-I | Cascadia D-I | | Women |
| Wellesley | | | New England | Metro Boston D-III | Metro Boston D-III | | Women |
| Wellesley-B | | | New England | New England Dev | New England Dev | | Women |
| Wesleyan | | | Metro East | Eastern Metro East D-III | Eastern Metro East D-III | | Women |
| Wesleyan-B | | | Metro East | Eastern Metro East D-III | Eastern Metro East D-III | | Women |
| West Chester | | | Ohio Valley | Pennsylvania D-I | Pennsylvania D-I | | Women |
| West Virginia | | | Ohio Valley | Pennsylvania D-I | Pennsylvania D-I | | Women |
| Western Kentucky | | | Great Lakes | Eastern Great Lakes D-I | Eastern Great Lakes D-I | | Women |
| Western Michigan | | | Great Lakes | Eastern Great Lakes D-I | Eastern Great Lakes D-I | | Women |
| Western Ontario | | | Metro East | Western NY D-I | Western NY D-I | | Women |
| Western Washington | | | Northwest | Cascadia D-I | Cascadia D-I | | Women |
| Western Washington-B | | | Northwest | Cascadia D-I | Cascadia D-I | | Women |
| Westfield State | | | New England | South New England D-III | South New England D-III | | Women |
| Wheaton (Illinois) | | | Great Lakes | Great Lakes D-III | Great Lakes D-III | | Women |
| Wheaton (Massachusetts) | | | New England | Metro Boston D-III | Metro Boston D-III | | Women |
| Whitman | | | Northwest | Big Sky D-I | Big Sky D-I | | Women |
| Whitman (D-III) | | | Northwest | Northwest D-III | Northwest D-III | | Women |
| Whitworth | | | Northwest | Northwest D-III | Northwest D-III | | Women |
| Willamette | | | Northwest | Northwest D-III | Northwest D-III | | Women |
| William & Mary | | | Atlantic Coast | Atlantic Coast Dev | Atlantic Coast Dev | | Women |
| William & Mary | | | Atlantic Coast | Virginia D-I | Virginia D-I | | Women |
| William & Mary-B | | | Atlantic Coast | Virginia Dev | Virginia Dev | | Women |
| Williams | | | New England | South New England D-III | South New England D-III | | Women |
| Williams-B | | | New England | New England Dev | New England Dev | | Women |
| Winona State | | | North Central | North Central D-III | North Central D-III | | Women |
| Wisconsin | | | North Central | Lake Superior D-I | Lake Superior D-I | | Women |
| Wisconsin-B | | | North Central | Lake Superior D-I | Lake Superior D-I | | Women |
| Wisconsin-Eau Claire | | | North Central | Lake Superior D-I | Lake Superior D-I | | Women |
| Wisconsin-La Crosse | | | North Central | Lake Superior D-I | Lake Superior D-I | | Women |
| Wisconsin-La Crosse-B | | | North Central | Lake Superior D-I | Lake Superior D-I | | Women |
| Wisconsin-Milwaukee | | | North Central | Lake Superior D-I | Lake Superior D-I | | Women |
| Wisconsin-Milwaukee-B | | | North Central | Lake Superior D-I | Lake Superior D-I | | Women |
| Wisconsin-Oshkosh | | | North Central | Lake Superior D-I | Lake Superior D-I | | Women |
| Wisconsin-Stevens Point | | | North Central | Lake Superior D-I | Lake Superior D-I | | Women |
| Wisconsin-Whitewater | | | North Central | Lake Superior D-I | Lake Superior D-I | | Women |
| Wooster | | | Ohio Valley | Ohio D-III | Ohio D-III | | Women |
| Wooster-B | | | Ohio Valley | Ohio D-III | Ohio D-III | | Women |
| Worcester Polytech | | | New England | South New England D-III | South New England D-III | | Women |
| Wright State | | | Ohio Valley | Ohio D-I | Ohio D-I | | Women |
| Wyoming | | | South Central | Rocky Mountain D-I | Rocky Mountain D-I | | Women |
| Xavier | | | Ohio Valley | Ohio D-III | Ohio D-III | | Women |
| Yale | | | Metro East | Eastern Metro East D-I | Eastern Metro East D-I | | Women |
Men
| Team | Arrival Date | Status | Region | Conference | Division | Graduated Students | D-I Pathway Election |
| --- | --- | --- | --- | --- | --- | --- | --- |
| Abilene Christian | | | South Central | Texas D-III | Texas D-III | | Men |
| Adelphi | | | Metro East | Metro NY D-I | Metro NY D-I | | Men |
| Air Force | | | South Central | Rocky Mountain D-III | Rocky Mountain D-III | | Men |
| Air Force-B | | | South Central | Rocky Mountain D-III | Rocky Mountain D-III | | Men |
| Akron | | | Ohio Valley | Ohio D-I | Ohio D-I | | Men |
| Alabama | | | Southeast | Gulf Coast D-I | Gulf Coast D-I | | Men |
| Alabama-B | | | Southeast | Southeast Dev | Southeast Dev | | Men |
| Alabama-Birmingham | | | Southeast | Gulf Coast D-I | Gulf Coast D-I | | Men |
| Alabama-Huntsville | | | Southeast | Gulf Coast D-I | Gulf Coast D-I | | Men |
| Albion | | | Great Lakes | Michigan D-III | Michigan D-III | | Men |
| Alfred | | | Metro East | Western NY D-III | Western NY D-III | | Men |
| Allegheny | | | Ohio Valley | West Penn D-III | West Penn D-III | | Men |
| American | | | Atlantic Coast | Colonial D-I | Colonial D-I | | Men |
| American-B | | | Atlantic Coast | Colonial Dev | Colonial Dev | | Men |
| Amherst | | | New England | South New England D-III | South New England D-III | | Men |
| Amherst-B | | | New England | Greater New England Dev | Greater New England Dev | | Men |
| Anderson | | | Atlantic Coast | Carolina D-III | Carolina D-III | | Men |
| Anderson | | | Great Lakes | East Plains D-III | East Plains D-III | | Men |
| Appalachian State | | | Atlantic Coast | Carolina D-I | Carolina D-I | | Men |
| Arizona | | | Southwest | Desert D-I | Desert D-I | | Men |
| Arizona State | | | Southwest | Desert D-I | Desert D-I | | Men |
| Arizona State-B | | | Southwest | Southwest Dev | Southwest Dev | | Men |
| Arizona State-C | | | Southwest | Southwest Dev | Southwest Dev | | Men |
| Arizona-B | | | Southwest | Southwest Dev | Southwest Dev | | Men |
| Arkansas | | | South Central | Ozarks D-I | Ozarks D-I | | Men |
| Arkansas State | | | South Central | Ozarks D-I | Ozarks D-I | | Men |
| Arkansas-B | | | South Central | South Central Dev | South Central Dev | | Men |
| Armstrong | | | Southeast | Southeast D-III | Southeast D-III | | Men |
| Army | | | Metro East | Hudson Valley D-III | Hudson Valley D-III | | Men |
| Auburn | | | Southeast | Gulf Coast D-I | Gulf Coast D-I | | Men |
| Auburn-B | | | Southeast | Southeast Dev | Southeast Dev | | Men |
| Augustana | | | North Central | Northwoods D-III | Northwoods D-III | | Men |
| Ave Maria | | | Southeast | Eastern Southeast D-III | Eastern Southeast D-III | | Men |
| Ave Maria-B | | | Southeast | Eastern Southeast D-III | Eastern Southeast D-III | | Men |
| Averett | | | Atlantic Coast | Northern Atlantic Coast D-III | Northern Atlantic Coast D-III | | Men |
| Azusa Pacific | | | Southwest | SoCal D-I | SoCal D-I | | Men |
| Ball State | | | Great Lakes | East Plains D-I | East Plains D-I | | Men |
| Ball State-B | | | Great Lakes | Eastern Great Lakes Dev | Eastern Great Lakes Dev | | Men |
| Bard | | | Metro East | Hudson Valley D-III | Hudson Valley D-III | | Men |
| Bates | | | New England | North New England D-III | North New England D-III | | Men |
| Bates-B | | | New England | Greater New England Dev | Greater New England Dev | | Men |
| Baylor | | | South Central | North Texas D-I | North Texas D-I | | Men |
| Baylor-B | | | South Central | South Central Dev | South Central Dev | | Men |
| Bellarmine | | | Great Lakes | East Plains D-III | East Plains D-III | | Men |
| Belmont | | | Southeast | Western Southeast D-III | Western Southeast D-III | | Men |
| Beloit | | | North Central | Lake Superior D-III | Lake Superior D-III | | Men |
| Bemidji State | | | North Central | Northwoods D-III | Northwoods D-III | | Men |
| Bennington | | | New England | North New England D-III | North New England D-III | | Men |
| Bentley | | | New England | Metro Boston D-III | Metro Boston D-III | | Men |
| Bentley-B | | | New England | Metro Boston Dev | Metro Boston Dev | | Men |
| Berea | | | Great Lakes | East Plains D-III | East Plains D-III | | Men |
| Berklee | | | New England | Metro Boston D-III | Metro Boston D-III | | Men |
| Berklee-B | | | New England | Metro Boston Dev | Metro Boston Dev | | Men |
| Berry | | | Southeast | Eastern Southeast D-III | Eastern Southeast D-III | | Men |
| Bethel | | | North Central | Northwoods D-III | Northwoods D-III | | Men |
| Biola | | | Southwest | Southwest D-III | Southwest D-III | | Men |
| Birmingham-Southern | | | Southeast | Southeast D-III | Southeast D-III | | Men |
| Bloomsburg | | | Ohio Valley | East Penn D-I | East Penn D-I | | Men |
| Boise State | | | Northwest | Big Sky D-I | Big Sky D-I | | Men |
| Boston College | | | New England | Metro Boston D-I | Metro Boston D-I | | Men |
| Boston College-B | | | New England | Metro Boston Dev | Metro Boston Dev | | Men |
| Boston College-C | | | New England | Metro Boston Dev | Metro Boston Dev | | Men |
| Boston University | | | New England | Metro Boston D-I | Metro Boston D-I | | Men |
| Boston University-B | | | New England | Metro Boston Dev | Metro Boston Dev | | Men |
| Bowdoin | | | New England | North New England D-III | North New England D-III | | Men |
| Bowdoin-B | | | New England | Greater New England Dev | Greater New England Dev | | Men |
| Bowling Green | | | Ohio Valley | Ohio D-I | Ohio D-I | | Men |
| Bradley | | | Great Lakes | Illinois D-III | Illinois D-III | | Men |
| Brandeis | | | New England | Metro Boston D-III | Metro Boston D-III | | Men |
| Brandeis-B | | | New England | Metro Boston Dev | Metro Boston Dev | | Men |
| Bridgewater State | | | New England | Metro Boston D-I | Metro Boston D-I | | Men |
| Brigham Young | | | Northwest | Big Sky D-I | Big Sky D-I | | Men |
| Brigham Young-B | | | Northwest | Big Sky D-I | Big Sky D-I | | Men |
| British Columbia | | | Northwest | Cascadia D-I | Cascadia D-I | | Men |
| British Columbia-B | | | Northwest | Cascadia D-I | Cascadia D-I | | Men |
| Brown | | | New England | South New England D-I | South New England D-I | | Men |
| Brown-B | | | New England | Greater New England Dev | Greater New England Dev | | Men |
| Brown-C | | | New England | Greater New England Dev | Greater New England Dev | | Men |
| Bryant | | | New England | South New England D-III | South New England D-III | | Men |
| Bryant-B | | | New England | Greater New England Dev | Greater New England Dev | | Men |
| Bucknell | | | Ohio Valley | West Penn D-III | West Penn D-III | | Men |
| Butler | | | Great Lakes | East Plains D-III | East Plains D-III | | Men |
| Cal Poly-Pomona | | | Southwest | SoCal D-I | SoCal D-I | | Men |
| Cal Poly-Pomona-B | | | Southwest | SoCal D-I | SoCal D-I | | Men |
| Cal Poly-SLO | | | Southwest | SoCal D-I | SoCal D-I | | Men |
| Cal Poly-SLO-B | | | Southwest | Southwest Dev | Southwest Dev | | Men |
| Cal Poly-SLO-C | | | Southwest | Southwest Dev | Southwest Dev | | Men |
| Cal State-Fullerton | | | Southwest | SoCal D-I | SoCal D-I | | Men |
| Cal State-Long Beach | | | Southwest | SoCal D-I | SoCal D-I | | Men |
| Cal State-Long Beach-B | | | Southwest | Southwest Dev | Southwest Dev | | Men |
| Cal State-San Marcos | | | Southwest | SoCal D-I | SoCal D-I | | Men |
| California | | | Southwest | NorCal D-I | NorCal D-I | | Men |
| California-B | | | Southwest | Southwest Dev | Southwest Dev | | Men |
| California-C | | | Southwest | Southwest Dev | Southwest Dev | | Men |
| California-Davis | | | Southwest | NorCal D-I | NorCal D-I | | Men |
| California-Davis-B | | | Southwest | Southwest Dev | Southwest Dev | | Men |
| California-Irvine | | | Southwest | SoCal D-I | SoCal D-I | | Men |
| California-Irvine-B | | | Southwest | Southwest Dev | Southwest Dev | | Men |
| California-Merced | | | Southwest | Southwest D-III | Southwest D-III | | Men |
| California-Pennsylvania | | | Ohio Valley | West Penn D-III | West Penn D-III | | Men |
| California-San Diego | | | Southwest | SoCal D-I | SoCal D-I | | Men |
| California-San Diego-B | | | Southwest | Southwest Dev | Southwest Dev | | Men |
| California-San Diego-C | | | Southwest | Southwest Dev | Southwest Dev | | Men |
| California-Santa Barbara | | | Southwest | SoCal D-I | SoCal D-I | | Men |
| California-Santa Barbara-B | | | Southwest | Southwest Dev | Southwest Dev | | Men |
| California-Santa Cruz | | | Southwest | NorCal D-I | NorCal D-I | | Men |
| California-Santa Cruz- B | | | Southwest | Southwest Dev | Southwest Dev | | Men |
| Caltech | | | Southwest | Southwest D-III | Southwest D-III | | Men |
| Calvin | | | Great Lakes | Michigan D-III | Michigan D-III | | Men |
| Calvin-B | | | Great Lakes | Eastern Great Lakes Dev | Eastern Great Lakes Dev | | Men |
| Campbell | | | Atlantic Coast | Carolina D-III | Carolina D-III | | Men |
| Canisius College | | | Metro East | Western NY D-III | Western NY D-III | | Men |
| Capital | | | Ohio Valley | Ohio D-III | Ohio D-III | | Men |
| Carleton College | | | North Central | Northwoods D-I | Northwoods D-I | | Men |
| Carleton College-GOP | | | North Central | Northwoods D-III | Northwoods D-III | | Men |
| Carleton College-Karls | | | North Central | Northwoods D-III | Northwoods D-III | | Men |
| Carleton University | | | Metro East | Western NY D-I | Western NY D-I | | Men |
| Carnegie-Mellon | | | Ohio Valley | West Penn D-I | West Penn D-I | | Men |
| Carnegie-Mellon-B | | | Ohio Valley | Ohio Valley Dev | Ohio Valley Dev | | Men |
| Carson Newman | | | Southeast | Southeast D-III | Southeast D-III | | Men |
| Carthage | | | North Central | Lake Superior D-III | Lake Superior D-III | | Men |
| Case Western Reserve | | | Ohio Valley | Ohio D-I | Ohio D-I | | Men |
| Case Western Reserve-B | | | Ohio Valley | Ohio Dev | Ohio Dev | | Men |
| Catholic | | | Atlantic Coast | Northern Atlantic Coast D-III | Northern Atlantic Coast D-III | | Men |
| Cedarville | | | Ohio Valley | Ohio D-III | Ohio D-III | | Men |
| Central Arkansas | | | South Central | Ozarks D-I | Ozarks D-I | | Men |
| Central Connecticut State | | | Metro East | Hudson Valley D-I | Hudson Valley D-I | | Men |
| Central Connecticut State-B | | | Metro East | Metro East Dev | Metro East Dev | | Men |
| Central Florida | | | Southeast | Florida D-I | Florida D-I | | Men |
| Central Florida-B | | | Southeast | Southeast Dev | Southeast Dev | | Men |
| Central Michigan | | | Great Lakes | Michigan D-I | Michigan D-I | | Men |
| Central Washington | | | Northwest | Cascadia D-I | Cascadia D-I | | Men |
| Centre College | | | Great Lakes | East Plains D-III | East Plains D-III | | Men |
| Chapman | | | Southwest | Southwest D-III | Southwest D-III | | Men |
| Charleston | | | Atlantic Coast | Carolina D-I | Carolina D-I | | Men |
| Charleston-B | | | Atlantic Coast | Carolina Dev | Carolina Dev | | Men |
| Chicago | | | Great Lakes | Illinois D-I | Illinois D-I | | Men |
| Chicago-B | | | Great Lakes | Great Lakes Dev | Great Lakes Dev | | Men |
| Chico State | | | Southwest | NorCal D-I | NorCal D-I | | Men |
| Christopher Newport | | | Atlantic Coast | Northern Atlantic Coast D-III | Northern Atlantic Coast D-III | | Men |
| Cincinnati | | | Ohio Valley | Ohio D-I | Ohio D-I | | Men |
| Cincinnati-B | | | Ohio Valley | Ohio Dev | Ohio Dev | | Men |
| Citadel | | | Atlantic Coast | Carolina D-III | Carolina D-III | | Men |
| City College (NY) | | | Metro East | Metro NY D-I | Metro NY D-I | | Men |
| Claremont | | | Southwest | Southwest D-III | Southwest D-III | | Men |
| Claremont-B | | | Southwest | Southwest Dev | Southwest Dev | | Men |
| Clarion | | | Ohio Valley | West Penn D-III | West Penn D-III | | Men |
| Clark | | | New England | South New England D-III | South New England D-III | | Men |
| Clarkson | | | Metro East | Western NY D-III | Western NY D-III | | Men |
| Clemson | | | Atlantic Coast | Carolina D-I | Carolina D-I | | Men |
| Clemson-B | | | Atlantic Coast | Carolina Dev | Carolina Dev | | Men |
| Cleveland State | | | Ohio Valley | Ohio D-I | Ohio D-I | | Men |
| Coastal Carolina | | | Atlantic Coast | Carolina D-I | Carolina D-I | | Men |
| Coe College | | | North Central | West Plains D-III | West Plains D-III | | Men |
| Colby | | | New England | North New England D-III | North New England D-III | | Men |
| Colby-B | | | New England | Greater New England Dev | Greater New England Dev | | Men |
| Colgate | | | Metro East | Western NY D-III | Western NY D-III | | Men |
| College of New Jersey | | | Metro East | Metro NY D-III | Metro NY D-III | | Men |
| College of the Ozarks | | | South Central | Northern South Central D-III | Northern South Central D-III | | Men |
| Colorado | | | South Central | Rocky Mountain D-I | Rocky Mountain D-I | | Men |
| Colorado College | | | South Central | Rocky Mountain D-III | Rocky Mountain D-III | | Men |
| Colorado Mesa | | | South Central | Rocky Mountain D-I | Rocky Mountain D-I | | Men |
| Colorado Mines | | | South Central | Rocky Mountain D-III | Rocky Mountain D-III | | Men |
| Colorado Mines-B | | | South Central | Rocky Mountain D-III | Rocky Mountain D-III | | Men |
| Colorado State | | | South Central | Rocky Mountain D-I | Rocky Mountain D-I | | Men |
| Colorado State-B | | | South Central | Rocky Mountain D-I | Rocky Mountain D-I | | Men |
| Colorado-B | | | South Central | South Central Dev | South Central Dev | | Men |
| Colorado-Colorado Springs | | | South Central | Rocky Mountain D-I | Rocky Mountain D-I | | Men |
| Colorado-Denver | | | South Central | Rocky Mountain D-I | Rocky Mountain D-I | | Men |
| Columbia | | | Metro East | Metro NY D-I | Metro NY D-I | | Men |
| Columbia-B | | | Metro East | Metro East Dev | Metro East Dev | | Men |
| Columbus State | | | Southeast | Southern Appalachian D-I | Southern Appalachian D-I | | Men |
| Concordia | | | North Central | Northwoods D-III | Northwoods D-III | | Men |
| Connecticut | | | Metro East | Hudson Valley D-I | Hudson Valley D-I | | Men |
| Connecticut College | | | Metro East | Hudson Valley D-III | Hudson Valley D-III | | Men |
| Connecticut College-B | | | Metro East | Metro East Dev | Metro East Dev | | Men |
| Connecticut-B | | | Metro East | Metro East Dev | Metro East Dev | | Men |
| Cornell | | | Metro East | Western NY D-I | Western NY D-I | | Men |
| Cornell College | | | North Central | West Plains D-III | West Plains D-III | | Men |
| Cornell-B | | | Metro East | Metro East Dev | Metro East Dev | | Men |
| Covenant College | | | Southeast | Southeast D-III | Southeast D-III | | Men |
| Creighton | | | North Central | West Plains D-I | West Plains D-I | | Men |
| Dalhousie | | | New England | North New England D-I | North New England D-I | | Men |
| Dallas | | | South Central | Texas D-III | Texas D-III | | Men |
| Dallas Baptist | | | South Central | Texas D-III | Texas D-III | | Men |
| Dalton State | | | Southeast | Eastern Southeast D-III | Eastern Southeast D-III | | Men |
| Dartmouth | | | New England | North New England D-III | North New England D-III | | Men |
| Dartmouth-B | | | New England | Greater New England Dev | Greater New England Dev | | Men |
| Davidson | | | Atlantic Coast | Carolina D-III | Carolina D-III | | Men |
| Dayton | | | Ohio Valley | Ohio D-I | Ohio D-I | | Men |
| Dayton-B | | | Ohio Valley | Ohio Dev | Ohio Dev | | Men |
| Delaware | | | Atlantic Coast | Colonial D-I | Colonial D-I | | Men |
| Delaware-B | | | Atlantic Coast | Colonial Dev | Colonial Dev | | Men |
| Denison | | | Ohio Valley | Ohio D-III | Ohio D-III | | Men |
| Denver | | | South Central | Rocky Mountain D-I | Rocky Mountain D-I | | Men |
| DePaul | | | Great Lakes | Illinois D-I | Illinois D-I | | Men |
| DePauw | | | Great Lakes | East Plains D-III | East Plains D-III | | Men |
| Dickinson | | | Ohio Valley | West Penn D-III | West Penn D-III | | Men |
| Dickinson-B | | | Ohio Valley | Pennsylvania Dev | Pennsylvania Dev | | Men |
| Drake | | | North Central | West Plains D-III | West Plains D-III | | Men |
| Drew | | | Metro East | Metro NY D-III | Metro NY D-III | | Men |
| Drexel | | | Ohio Valley | East Penn D-I | East Penn D-I | | Men |
| Drexel-B | | | Ohio Valley | Pennsylvania Dev | Pennsylvania Dev | | Men |
| Drury | | | South Central | Northern South Central D-III | Northern South Central D-III | | Men |
| Duke | | | Atlantic Coast | Carolina D-I | Carolina D-I | | Men |
| Earlham | | | Great Lakes | East Plains D-III | East Plains D-III | | Men |
| East Carolina | | | Atlantic Coast | Carolina D-I | Carolina D-I | | Men |
| East Carolina-B | | | Atlantic Coast | Carolina Dev | Carolina Dev | | Men |
| East Stroudsburg | | | Ohio Valley | East Penn D-III | East Penn D-III | | Men |
| East Tennessee State | | | Southeast | Southern Appalachian D-I | Southern Appalachian D-I | | Men |
| Eastern | | | Ohio Valley | East Penn D-III | East Penn D-III | | Men |
| Eastern Illinois | | | Great Lakes | Illinois D-III | Illinois D-III | | Men |
| Eastern Kentucky | | | Great Lakes | East Plains D-I | East Plains D-I | | Men |
| Eastern Michigan | | | Great Lakes | Michigan D-I | Michigan D-I | | Men |
| Eastern Washington | | | Northwest | Big Sky D-I | Big Sky D-I | | Men |
| Eckerd | | | Southeast | Southeast D-III | Southeast D-III | | Men |
| Edinboro | | | Ohio Valley | West Penn D-I | West Penn D-I | | Men |
| Elon | | | Atlantic Coast | Carolina D-III | Carolina D-III | | Men |
| Elon-B | | | Atlantic Coast | Carolina Dev | Carolina Dev | | Men |
| Embry-Riddle | | | Southeast | Eastern Southeast D-III | Eastern Southeast D-III | | Men |
| Emerson | | | New England | Metro Boston D-III | Metro Boston D-III | | Men |
| Emmanuel College | | | New England | Metro Boston D-III | Metro Boston D-III | | Men |
| Emory | | | Southeast | Southern Appalachian D-I | Southern Appalachian D-I | | Men |
| Evergreen State | | | Northwest | Northwest D-III | Northwest D-III | | Men |
| Fairfield | | | Metro East | Hudson Valley D-III | Hudson Valley D-III | | Men |
| Ferris State | | | Great Lakes | Michigan DI | Michigan DI | | Men |
| Florida | | | Southeast | Florida D-I | Florida D-I | | Men |
| Florida Atlantic | | | Southeast | Florida D-I | Florida D-I | | Men |
| Florida Gulf Coast | | | Southeast | Florida D-I | Florida D-I | | Men |
| Florida Polytechnic | | | Southeast | Eastern Southeast D-III | Eastern Southeast D-III | | Men |
| Florida State | | | Southeast | Florida D-I | Florida D-I | | Men |
| Florida State-B | | | Southeast | Southeast Dev | Southeast Dev | | Men |
| Florida State-C | | | Southeast | Southeast Dev | Southeast Dev | | Men |
| Florida Tech | | | Southeast | Eastern Southeast D-III | Eastern Southeast D-III | | Men |
| Florida Tech-B | | | Southeast | Southeast Dev | Southeast Dev | | Men |
| Florida-B | | | Southeast | Southeast Dev | Southeast Dev | | Men |
| Florida-C | | | Southeast | Southeast Dev | Southeast Dev | | Men |
| Fordham | | | Metro East | Metro NY D-I | Metro NY D-I | | Men |
| Fort Lewis | | | South Central | Northern South Central D-III | Northern South Central D-III | | Men |
| Franciscan | | | Ohio Valley | Ohio D-III | Ohio D-III | | Men |
| Franklin & Marshall | | | Ohio Valley | East Penn D-III | East Penn D-III | | Men |
| Franklin Pierce | | | New England | North New England D-III | North New England D-III | | Men |
| Fresno State | | | Southwest | NorCal D-I | NorCal D-I | | Men |
| Furman | | | Atlantic Coast | Carolina D-III | Carolina D-III | | Men |
| Gannon | | | Ohio Valley | West Penn D-III | West Penn D-III | | Men |
| George Fox | | | Northwest | Northwest D-III | Northwest D-III | | Men |
| George Mason | | | Atlantic Coast | Virginia D-I | Virginia D-I | | Men |
| George Mason-B | | | Atlantic Coast | Virginia Dev | Virginia Dev | | Men |
| George Washington | | | Atlantic Coast | Colonial D-I | Colonial D-I | | Men |
| George Washington-B | | | Atlantic Coast | Colonial Dev | Colonial Dev | | Men |
| Georgetown | | | Atlantic Coast | Colonial D-I | Colonial D-I | | Men |
| Georgetown-B | | | Atlantic Coast | Colonial Dev | Colonial Dev | | Men |
| Georgia | | | Southeast | Southern Appalachian D-I | Southern Appalachian D-I | | Men |
| Georgia College | | | Southeast | Eastern Southeast D-III | Eastern Southeast D-III | | Men |
| Georgia Gwinnett | | | Southeast | Southern Appalachian D-I | Southern Appalachian D-I | | Men |
| Georgia Southern | | | Southeast | Southern Appalachian D-I | Southern Appalachian D-I | | Men |
| Georgia Southern-B | | | Southeast | Southeast Dev | Southeast Dev | | Men |
| Georgia State | | | Southeast | Southern Appalachian D-I | Southern Appalachian D-I | | Men |
| Georgia Tech | | | Southeast | Southern Appalachian D-I | Southern Appalachian D-I | | Men |
| Georgia Tech-B | | | Southeast | Southeast Dev | Southeast Dev | | Men |
| Georgia-B | | | Southeast | Southeast Dev | Southeast Dev | | Men |
| Georgia-C | | | Southeast | Southeast Dev | Southeast Dev | | Men |
| Gettysburg | | | Ohio Valley | West Penn D-III | West Penn D-III | | Men |
| Gonzaga | | | Northwest | Big Sky D-I | Big Sky D-I | | Men |
| Gordon College | | | New England | Metro Boston D-III | Metro Boston D-III | | Men |
| Goshen | | | Great Lakes | East Plains D-III | East Plains D-III | | Men |
| Goucher | | | Atlantic Coast | Northern Atlantic Coast D-III | Northern Atlantic Coast D-III | | Men |
| Grace | | | Great Lakes | East Plains D-III | East Plains D-III | | Men |
| Grand Canyon | | | Southwest | Desert D-I | Desert D-I | | Men |
| Grand Valley | | | Great Lakes | Michigan D-I | Michigan D-I | | Men |
| Green Mountain | | | New England | North New England D-III | North New England D-III | | Men |
| Grinnell | | | North Central | West Plains D-III | West Plains D-III | | Men |
| Grove City | | | Ohio Valley | West Penn D-III | West Penn D-III | | Men |
| Guelph | | | Metro East | Western NY D-I | Western NY D-I | | Men |
| Gustavus Adolphus | | | North Central | Northwoods D-III | Northwoods D-III | | Men |
| Hamilton | | | Metro East | Western NY D-III | Western NY D-III | | Men |
| Hamline | | | North Central | Northwoods D-III | Northwoods D-III | | Men |
| Hampshire | | | New England | South New England D-III | South New England D-III | | Men |
| Hanover | | | Great Lakes | East Plains D-III | East Plains D-III | | Men |
| Harding | | | South Central | Ozarks D-III | Ozarks D-III | | Men |
| Harding-B | | | South Central | South Central Dev | South Central Dev | | Men |
| Hartford | | | Metro East | Hudson Valley D-III | Hudson Valley D-III | | Men |
| Harvard | | | New England | Metro Boston D-I | Metro Boston D-I | | Men |
| Harvard-B | | | New England | Metro Boston Dev | Metro Boston Dev | | Men |
| Haverford | | | Ohio Valley | East Penn D-III | East Penn D-III | | Men |
| Hendrix | | | South Central | Northern South Central D-III | Northern South Central D-III | | Men |
| Hendrix-B | | | South Central | South Central Dev | South Central Dev | | Men |
| High Point | | | Atlantic Coast | Carolina D-III | Carolina D-III | | Men |
| Hofstra | | | Metro East | Metro NY D-I | Metro NY D-I | | Men |
| Holy Cross | | | New England | South New England D-III | South New England D-III | | Men |
| Hope College | | | Great Lakes | Michigan D-III | Michigan D-III | | Men |
| Houghton | | | Metro East | Western NY D-III | Western NY D-III | | Men |
| Houston | | | South Central | South Texas D-I | South Texas D-I | | Men |
| Houston-B | | | South Central | South Central Dev | South Central Dev | | Men |
| Humboldt State | | | Southwest | NorCal D-I | NorCal D-I | | Men |
| Hunter College | | | Metro East | Metro NY D-I | Metro NY D-I | | Men |
| Huntington | | | Great Lakes | East Plains D-III | East Plains D-III | | Men |
| Idaho | | | Northwest | Big Sky D-I | Big Sky D-I | | Men |
| Idaho State | | | Northwest | Big Sky D-I | Big Sky D-I | | Men |
| Illinois | | | Great Lakes | Illinois D-I | Illinois D-I | | Men |
| Illinois State | | | Great Lakes | Illinois D-I | Illinois D-I | | Men |
| Illinois State-B | | | Great Lakes | Illinois Dev | Illinois Dev | | Men |
| Illinois-B | | | Great Lakes | Illinois Dev | Illinois Dev | | Men |
| Illinois-C | | | Great Lakes | Illinois Dev | Illinois Dev | | Men |
| Illinois-Chicago | | | Great Lakes | Illinois D-I | Illinois D-I | | Men |
| Indiana | | | Great Lakes | East Plains D-I | East Plains D-I | | Men |
| Indiana (Pennsylvania) | | | Ohio Valley | West Penn D-I | West Penn D-I | | Men |
| Indiana (Pennsylvania)-B | | | Ohio Valley | Pennsylvania Dev | Pennsylvania Dev | | Men |
| Indiana Wesleyan | | | Great Lakes | East Plains D-III | East Plains D-III | | Men |
| Indiana-B | | | Great Lakes | Eastern Great Lakes Dev | Eastern Great Lakes Dev | | Men |
| Indianapolis | | | Great Lakes | East Plains D-III | East Plains D-III | | Men |
| Iowa | | | North Central | West Plains D-I | West Plains D-I | | Men |
| Iowa State | | | North Central | West Plains D-I | West Plains D-I | | Men |
| Iowa State-B | | | North Central | North Central Dev | North Central Dev | | Men |
| Iowa-B | | | North Central | North Central Dev | North Central Dev | | Men |
| Ithaca | | | Metro East | Western NY D-III | Western NY D-III | | Men |
| IUPUI | | | Great Lakes | East Plains D-I | East Plains D-I | | Men |
| Jacksonville State | | | Southeast | Gulf Coast D-I | Gulf Coast D-I | | Men |
| James Madison | | | Atlantic Coast | Virginia D-I | Virginia D-I | | Men |
| James Madison-B | | | Atlantic Coast | Virginia Dev | Virginia Dev | | Men |
| Jefferson | | | Ohio Valley | East Penn D-III | East Penn D-III | | Men |
| John Brown | | | South Central | Northern South Central D-III | Northern South Central D-III | | Men |
| John Carroll | | | Ohio Valley | Ohio D-III | Ohio D-III | | Men |
| Johns Hopkins | | | Atlantic Coast | Colonial D-I | Colonial D-I | | Men |
| Johns Hopkins-B | | | Atlantic Coast | Colonial Dev | Colonial Dev | | Men |
| Johnson | | | Southeast | Southeast D-III | Southeast D-III | | Men |
| Judson | | | Great Lakes | Illinois D-III | Illinois D-III | | Men |
| Kalamazoo | | | Great Lakes | Michigan D-III | Michigan D-III | | Men |
| Kalamazoo-B | | | Great Lakes | Great Lakes Dev | Great Lakes Dev | | Men |
| Kansas | | | South Central | Ozarks D-I | Ozarks D-I | | Men |
| Kansas State | | | South Central | Ozarks D-I | Ozarks D-I | | Men |
| Kansas State-Salina | | | South Central | Northern South Central D-III | Northern South Central D-III | | Men |
| Kansas-B | | | South Central | South Central Dev | South Central Dev | | Men |
| Kean University | | | Metro East | Metro NY D-I | Metro NY D-I | | Men |
| Keene State | | | New England | North New England D-III | North New England D-III | | Men |
| Keene State-B | | | New England | Greater New England Dev | Greater New England Dev | | Men |
| Kennesaw State | | | Southeast | Southern Appalachian D-I | Southern Appalachian D-I | | Men |
| Kent State | | | Ohio Valley | Ohio D-I | Ohio D-I | | Men |
| Kentucky | | | Great Lakes | East Plains D-I | East Plains D-I | | Men |
| Kentucky-B | | | Great Lakes | Great Lakes Dev | Great Lakes Dev | | Men |
| Kenyon | | | Ohio Valley | Ohio D-III | Ohio D-III | | Men |
| Kenyon-B | | | Ohio Valley | Ohio D-III | Ohio D-III | | Men |
| Kettering | | | Great Lakes | Michigan D-III | Michigan D-III | | Men |
| Knox | | | Great Lakes | Illinois D-III | Illinois D-III | | Men |
| Kutztown | | | Ohio Valley | East Penn D-I | East Penn D-I | | Men |
| Lafayette | | | Ohio Valley | East Penn D-III | East Penn D-III | | Men |
| Lafayette-B | | | Ohio Valley | Pennsylvania Dev | Pennsylvania Dev | | Men |
| Lake Forest | | | Great Lakes | Illinois D-III | Illinois D-III | | Men |
| Lakehead | | | North Central | Northwoods D-I | Northwoods D-I | | Men |
| Lamar | | | South Central | South Texas D-I | South Texas D-I | | Men |
| Lancaster Bible | | | Ohio Valley | East Penn D-III | East Penn D-III | | Men |
| Lander | | | Atlantic Coast | Carolina D-III | Carolina D-III | | Men |
| Langara | | | Northwest | Cascadia D-I | Cascadia D-I | | Men |
| Las Positas | | | Southwest | NorCal D-I | NorCal D-I | | Men |
| Lawrence | | | North Central | Lake Superior D-III | Lake Superior D-III | | Men |
| Le Moyne | | | Metro East | Western NY D-III | Western NY D-III | | Men |
| Lehigh | | | Ohio Valley | East Penn D-I | East Penn D-I | | Men |
| Lehigh-B | | | Ohio Valley | Pennsylvania Dev | Pennsylvania Dev | | Men |
| Lesley | | | New England | Metro Boston D-III | Metro Boston D-III | | Men |
| LeTourneau | | | South Central | Texas D-III | Texas D-III | | Men |
| Lewis | | | Great Lakes | Illinois D-III | Illinois D-III | | Men |
| Lewis & Clark | | | Northwest | Northwest D-III | Northwest D-III | | Men |
| Lewis & Clark B | | | Northwest | Northwest D-III | Northwest D-III | | Men |
| Liberty | | | Atlantic Coast | Virginia D-I | Virginia D-I | | Men |
| Linfield | | | Great Lakes | Illinois D-III | Illinois D-III | | Men |
| Lipscomb | | | Southeast | Southeast D-III | Southeast D-III | | Men |
| Loras | | | North Central | West Plains D-III | West Plains D-III | | Men |
| Louisiana College | | | Southeast | Southeast D-III | Southeast D-III | | Men |
| Louisiana Tech | | | Southeast | Gulf Coast D-I | Gulf Coast D-I | | Men |
| Louisville | | | Great Lakes | East Plains D-I | East Plains D-I | | Men |
| Loyola Marymount | | | Southwest | SoCal D-I | SoCal D-I | | Men |
| Loyola-Chicago | | | Great Lakes | Illinois D-I | Illinois D-I | | Men |
| Loyola-Maryland | | | Atlantic Coast | Northern Atlantic Coast D-III | Northern Atlantic Coast D-III | | Men |
| LSU | | | Southeast | Gulf Coast D-I | Gulf Coast D-I | | Men |
| LSU-B | | | Southeast | Southeast Dev | Southeast Dev | | Men |
| Luther | | | North Central | West Plains D-III | West Plains D-III | | Men |
| Luther-B | | | North Central | North Central Dev | North Central Dev | | Men |
| Macalester | | | North Central | Northwoods D-III | Northwoods D-III | | Men |
| Macalester-B | | | North Central | North Central Dev | North Central Dev | | Men |
| Maine | | | New England | North New England D-I | North New England D-I | | Men |
| Maine-Farmington | | | New England | North New England D-III | North New England D-III | | Men |
| Manhattanville | | | Metro East | Metro NY D-III | Metro NY D-III | | Men |
| Manitoba | | | North Central | Northwoods D-I | Northwoods D-I | | Men |
| Marist | | | Metro East | Hudson Valley D-III | Hudson Valley D-III | | Men |
| Marquette | | | North Central | Lake Superior D-I | Lake Superior D-I | | Men |
| Marquette-B | | | North Central | Lake Superior D-I | Lake Superior D-I | | Men |
| Mars Hill | | | Atlantic Coast | Carolina D-III | Carolina D-III | | Men |
| Mary Washington | | | Atlantic Coast | Northern Atlantic Coast D-III | Northern Atlantic Coast D-III | | Men |
| Maryland | | | Atlantic Coast | Colonial D-I | Colonial D-I | | Men |
| Maryland-B | | | Atlantic Coast | Colonial Dev | Colonial Dev | | Men |
| Maryland-Baltimore County | | | Atlantic Coast | Colonial D-I | Colonial D-I | | Men |
| Maryland-Baltimore County-B | | | Atlantic Coast | Colonial Dev | Colonial Dev | | Men |
| Maryville College | | | Southeast | Southeast D-III | Southeast D-III | | Men |
| Massachusetts | | | New England | South New England D-I | South New England D-I | | Men |
| Massachusetts-B | | | New England | Greater New England Dev | Greater New England Dev | | Men |
| Massachusetts-C | | | New England | New England Dev | New England Dev | | Men |
| Massachusetts-Dartmouth | | | New England | Metro Boston D-I | Metro Boston D-I | | Men |
| Massachusetts-Lowell | | | New England | Metro Boston D-I | Metro Boston D-I | | Men |
| McDaniel | | | Atlantic Coast | Northern Atlantic Coast D-III | Northern Atlantic Coast D-III | | Men |
| McGill | | | New England | North New England D-I | North New England D-I | | Men |
| Memphis | | | Southeast | Gulf Coast D-I | Gulf Coast D-I | | Men |
| Mercer | | | Southeast | Southeast D-III | Southeast D-III | | Men |
| Merrimack | | | New England | Metro Boston D-III | Metro Boston D-III | | Men |
| Messiah | | | Ohio Valley | West Penn D-III | West Penn D-III | | Men |
| Messiah-B | | | Ohio Valley | Pennsylvania Dev | Pennsylvania Dev | | Men |
| Metro State College of Denver | | | South Central | Rocky Mountain D-I | Rocky Mountain D-I | | Men |
| Miami | | | Southeast | Florida D-I | Florida D-I | | Men |
| Miami (Ohio) | | | Ohio Valley | Ohio D-I | Ohio D-I | | Men |
| Michigan | | | Great Lakes | Michigan D-I | Michigan D-I | | Men |
| Michigan State | | | Great Lakes | Michigan D-I | Michigan D-I | | Men |
| Michigan State-B | | | Great Lakes | Eastern Great Lakes Dev | Eastern Great Lakes Dev | | Men |
| Michigan Tech | | | North Central | Lake Superior D-III | Lake Superior D-III | | Men |
| Michigan-B | | | Great Lakes | Eastern Great Lakes Dev | Eastern Great Lakes Dev | | Men |
| Michigan-Flint | | | Great Lakes | Michigan D-III | Michigan D-III | | Men |
| Middle Tennessee State | | | Southeast | Gulf Coast D-I | Gulf Coast D-I | | Men |
| Middlebury | | | New England | North New England D-III | North New England D-III | | Men |
| Middlebury-B | | | New England | Greater New England Dev | Greater New England Dev | | Men |
| Midwestern State | | | South Central | Texas D-III | Texas D-III | | Men |
| Millersville | | | Ohio Valley | East Penn D-I | East Penn D-I | | Men |
| Millersville-B | | | Ohio Valley | Pennsylvania Dev | Pennsylvania Dev | | Men |
| Milwaukee Engineering | | | North Central | Lake Superior D-III | Lake Superior D-III | | Men |
| Minnesota | | | North Central | Northwoods D-I | Northwoods D-I | | Men |
| Minnesota State-Mankato | | | North Central | Northwoods D-I | Northwoods D-I | | Men |
| Minnesota-B | | | North Central | North Central Dev | North Central Dev | | Men |
| Minnesota-C | | | North Central | North Central Dev | North Central Dev | | Men |
| Minnesota-Duluth | | | North Central | Northwoods D-I | Northwoods D-I | | Men |
| Mississippi | | | Southeast | Gulf Coast D-I | Gulf Coast D-I | | Men |
| Mississippi State | | | Southeast | Gulf Coast D-I | Gulf Coast D-I | | Men |
| Mississippi State-B | | | Southeast | Southeast Dev | Southeast Dev | | Men |
| Missouri | | | South Central | Ozarks D-I | Ozarks D-I | | Men |
| Missouri S&T | | | South Central | Northern South Central D-III | Northern South Central D-III | | Men |
| Missouri S&T-B | | | South Central | Northern South Central D-III | Northern South Central D-III | | Men |
| Missouri State | | | South Central | Ozarks D-I | Ozarks D-I | | Men |
| Missouri State-B | | | South Central | South Central Dev | South Central Dev | | Men |
| Missouri-B | | | South Central | South Central Dev | South Central Dev | | Men |
| MIT | | | New England | Metro Boston D-I | Metro Boston D-I | | Men |
| MIT-B | | | New England | Metro Boston Dev | Metro Boston Dev | | Men |
| Montana | | | Northwest | Big Sky D-I | Big Sky D-I | | Men |
| Montana State | | | Northwest | Big Sky D-I | Big Sky D-I | | Men |
| Montana-B | | | Northwest | Big Sky D-I | Big Sky D-I | | Men |
| Montclair State | | | Metro East | Metro NY D-I | Metro NY D-I | | Men |
| Muhlenberg | | | Ohio Valley | East Penn D-III | East Penn D-III | | Men |
| Murray State | | | Great Lakes | East Plains D-I | East Plains D-I | | Men |
| Navy | | | Atlantic Coast | Northern Atlantic Coast D-III | Northern Atlantic Coast D-III | | Men |
| Navy-B | | | Atlantic Coast | Northern Atlantic Coast D-III | Northern Atlantic Coast D-III | | Men |
| Nebraska | | | North Central | West Plains D-I | West Plains D-I | | Men |
| Nebraska-Omaha | | | North Central | West Plains D-I | West Plains D-I | | Men |
| Nevada-Reno | | | Southwest | NorCal D-I | NorCal D-I | | Men |
| Nevada-Reno-B | | | Southwest | NorCal Dev | NorCal Dev | | Men |
| New Brunswick | | | New England | North New England D-I | North New England D-I | | Men |
| New England College | | | New England | North New England D-III | North New England D-III | | Men |
| New Hampshire | | | New England | North New England D-I | North New England D-I | | Men |
| New Hampshire-B | | | New England | Greater New England Dev | Greater New England Dev | | Men |
| New Haven | | | Metro East | Hudson Valley D-III | Hudson Valley D-III | | Men |
| New Jersey Tech | | | Metro East | Metro NY D-I | Metro NY D-I | | Men |
| New Mexico | | | Southwest | Desert D-I | Desert D-I | | Men |
| New Mexico State | | | Southwest | Desert D-I | Desert D-I | | Men |
| New York Tech | | | Metro East | Metro NY D-III | Metro NY D-III | | Men |
| Nichols College | | | New England | South New England D-III | South New England D-III | | Men |
| North Carolina | | | Atlantic Coast | Carolina D-I | Carolina D-I | | Men |
| North Carolina State | | | Atlantic Coast | Carolina D-I | Carolina D-I | | Men |
| North Carolina State-B | | | Atlantic Coast | Carolina Dev | Carolina Dev | | Men |
| North Carolina-Asheville | | | Atlantic Coast | Carolina D-III | Carolina D-III | | Men |
| North Carolina-B | | | Atlantic Coast | Carolina Dev | Carolina Dev | | Men |
| North Carolina-Charlotte | | | Atlantic Coast | Carolina D-I | Carolina D-I | | Men |
| North Carolina-Greensboro | | | Atlantic Coast | Carolina D-I | Carolina D-I | | Men |
| North Carolina-Wilmington | | | Atlantic Coast | Carolina D-I | Carolina D-I | | Men |
| North Carolina-Wilmington-B | | | Atlantic Coast | Carolina Dev | Carolina Dev | | Men |
| North Dakota | | | North Central | Northwoods D-I | Northwoods D-I | | Men |
| North Dakota State | | | North Central | Northwoods D-I | Northwoods D-I | | Men |
| North Florida | | | Southeast | Florida D-I | Florida D-I | | Men |
| North Georgia | | | Southeast | Eastern Southeast D-III | Eastern Southeast D-III | | Men |
| North Greenville | | | Atlantic Coast | Carolina D-III | Carolina D-III | | Men |
| North Park | | | Great Lakes | Illinois D-III | Illinois D-III | | Men |
| North Park-B | | | Great Lakes | Illinois Dev | Illinois Dev | | Men |
| North Texas | | | South Central | North Texas D-I | North Texas D-I | | Men |
| North Texas-B | | | South Central | North Texas D-I | North Texas D-I | | Men |
| Northeastern | | | New England | Metro Boston D-I | Metro Boston D-I | | Men |
| Northeastern-B | | | New England | Metro Boston Dev | Metro Boston Dev | | Men |
| Northeastern-C | | | New England | Metro Boston Dev | Metro Boston Dev | | Men |
| Northern Arizona | | | Southwest | Desert D-I | Desert D-I | | Men |
| Northern Colorado | | | South Central | Rocky Mountain D-I | Rocky Mountain D-I | | Men |
| Northern Illinois | | | Great Lakes | Illinois D-I | Illinois D-I | | Men |
| Northern Iowa | | | North Central | West Plains D-I | West Plains D-I | | Men |
| Northern Kentucky | | | Great Lakes | East Plains D-I | East Plains D-I | | Men |
| Northern Michigan | | | North Central | Lake Superior D-I | Lake Superior D-I | | Men |
| Northwestern | | | Great Lakes | Illinois D-I | Illinois D-I | | Men |
| Northwestern-B | | | Great Lakes | Great Lakes Dev | Great Lakes Dev | | Men |
| Northwestern-St. Paul | | | North Central | Northwoods D-III | Northwoods D-III | | Men |
| Norwich | | | New England | North New England D-III | North New England D-III | | Men |
| Notre Dame | | | Great Lakes | East Plains D-I | East Plains D-I | | Men |
| Notre Dame-B | | | Great Lakes | Eastern Great Lakes Dev | Eastern Great Lakes Dev | | Men |
| NYU | | | Metro East | Metro NY D-I | Metro NY D-I | | Men |
| Oakland | | | Great Lakes | Michigan D-I | Michigan D-I | | Men |
| Oberlin | | | Ohio Valley | Ohio D-III | Ohio D-III | | Men |
| Oberlin-B | | | Ohio Valley | Ohio Dev | Ohio Dev | | Men |
| Occidental | | | Southwest | Southwest D-III | Southwest D-III | | Men |
| Ohio | | | Ohio Valley | Ohio D-I | Ohio D-I | | Men |
| Ohio Northern | | | Ohio Valley | Ohio D-III | Ohio D-III | | Men |
| Ohio Northern-B | | | Ohio Valley | Ohio Dev | Ohio Dev | | Men |
| Ohio State | | | Ohio Valley | Ohio D-I | Ohio D-I | | Men |
| Ohio State-B | | | Ohio Valley | Ohio Dev | Ohio Dev | | Men |
| Ohio Valley | | | West Penn D-III | Ohio D-III | Ohio D-III | | Men |
| Ohio Wesleyan | | | Ohio Valley | Ohio D-III | Ohio D-III | | Men |
| Ohio-B | | | Ohio Valley | Ohio Dev | Ohio Dev | | Men |
| Oklahoma | | | South Central | Ozarks D-I | Ozarks D-I | | Men |
| Oklahoma Christian | | | South Central | Ozarks D-III | Ozarks D-III | | Men |
| Oklahoma State | | | South Central | Ozarks D-I | Ozarks D-I | | Men |
| Oklahoma-B | | | South Central | South Central Dev | South Central Dev | | Men |
| Old Dominion | | | Atlantic Coast | Virginia D-I | Virginia D-I | | Men |
| Olin | | | New England | Metro Boston D-III | Metro Boston D-III | | Men |
| Olivet Nazarene | | | Great Lakes | Illinois D-III | Illinois D-III | | Men |
| Oregon | | | Northwest | Cascadia D-I | Cascadia D-I | | Men |
| Oregon State | | | Northwest | Cascadia D-I | Cascadia D-I | | Men |
| Oregon State-B | | | Northwest | Cascadia D-I | Cascadia D-I | | Men |
| Oregon-B | | | Northwest | Cascadia D-I | Cascadia D-I | | Men |
| Ottawa | | | Metro East | Western NY D-I | Western NY D-I | | Men |
| Ottawa (Arizona) | | | Southwest | Southwest D-III | Southwest D-III | | Men |
| Pacific | | | Northwest | Northwest D-III | Northwest D-III | | Men |
| Pacific Lutheran | | | Northwest | Northwest D-III | Northwest D-III | | Men |
| Pacific Lutheran-B | | | Northwest | Northwest D-III | Northwest D-III | | Men |
| Penn State | | | Ohio Valley | West Penn D-I | West Penn D-I | | Men |
| Penn State Altoona | | | Ohio Valley | West Penn D-III | West Penn D-III | | Men |
| Penn State-B | | | Ohio Valley | Pennsylvania Dev | Pennsylvania Dev | | Men |
| Penn State-Behrend | | | Ohio Valley | West Penn D-III | West Penn D-III | | Men |
| Pennsylvania | | | Ohio Valley | East Penn D-I | East Penn D-I | | Men |
| Pennsylvania-B | | | Ohio Valley | Pennsylvania Dev | Pennsylvania Dev | | Men |
| Pepperdine | | | Southwest | SoCal D-I | SoCal D-I | | Men |
| Pittsburgh | | | Ohio Valley | West Penn D-I | West Penn D-I | | Men |
| Pittsburgh-B | | | Ohio Valley | Pennsylvania Dev | Pennsylvania Dev | | Men |
| Pittsburgh-Johnstown | | | Ohio Valley | West Penn D-III | West Penn D-III | | Men |
| Portland | | | Northwest | Northwest D-III | Northwest D-III | | Men |
| Portland State | | | Northwest | Cascadia D-I | Cascadia D-I | | Men |
| Princeton | | | Metro East | Metro NY D-I | Metro NY D-I | | Men |
| Princeton-B | | | Metro East | Metro East Dev | Metro East Dev | | Men |
| Providence | | | New England | South New England D-III | South New England D-III | | Men |
| Puget Sound | | | Northwest | Northwest D-III | Northwest D-III | | Men |
| Puget Sound-B | | | Northwest | Northwest D-III | Northwest D-III | | Men |
| Purdue | | | Great Lakes | East Plains D-I | East Plains D-I | | Men |
| Purdue-B | | | Great Lakes | Eastern Great Lakes Dev | Eastern Great Lakes Dev | | Men |
| Queens College | | | Metro East | Metro NY D-I | Metro NY D-I | | Men |
| Queens-Kingston | | | Metro East | Western NY D-I | Western NY D-I | | Men |
| Radford | | | Atlantic Coast | Virginia D-I | Virginia D-I | | Men |
| Ramapo | | | Metro East | Metro NY D-III | Metro NY D-III | | Men |
| Redlands | | | Southwest | Southwest D-III | Southwest D-III | | Men |
| Reed | | | Northwest | Northwest D-III | Northwest D-III | | Men |
| Regent University | | | Atlantic Coast | Souhern Atlantic Coast Dev | Souhern Atlantic Coast Dev | | Men |
| Reinhardt | | | Southeast | Southeast D-III | Southeast D-III | | Men |
| Rensselaer Polytech | | | Metro East | Hudson Valley D-III | Hudson Valley D-III | | Men |
| Rensselaer Polytech-B | | | Metro East | Metro East Dev | Metro East Dev | | Men |
| Rhode Island | | | New England | South New England D-I | South New England D-I | | Men |
| Rhode Island College | | | New England | South New England D-I | South New England D-I | | Men |
| Rhode Island-B | | | New England | Greater New England Dev | Greater New England Dev | | Men |
| Rhodes | | | Southeast | Southeast D-III | Southeast D-III | | Men |
| Rice | | | South Central | Texas D-III | Texas D-III | | Men |
| Richmond | | | Atlantic Coast | Northern Atlantic Coast D-III | Northern Atlantic Coast D-III | | Men |
| Rider | | | Metro East | Metro NY D-III | Metro NY D-III | | Men |
| RIT | | | Metro East | Western NY D-I | Western NY D-I | | Men |
| Roanoke | | | Atlantic Coast | Northern Atlantic Coast D-III | Northern Atlantic Coast D-III | | Men |
| Robert Morris | | | | | | | |
| Rochester | | | Metro East | Western NY D-III | Western NY D-III | | Men |
| Roger Williams | | | New England | South New England D-III | South New England D-III | | Men |
| Rose-Hulman | | | Great Lakes | East Plains D-III | East Plains D-III | | Men |
| Rowan | | | Metro East | Metro NY D-I | Metro NY D-I | | Men |
| Rowan-B | | | Metro East | Metro East Dev | Metro East Dev | | Men |
| Rutgers | | | Metro East | Metro NY D-I | Metro NY D-I | | Men |
| Rutgers-B | | | Metro East | Metro East Dev | Metro East Dev | | Men |
| Sacramento State | | | Southwest | NorCal D-I | NorCal D-I | | Men |
| Sacred Heart | | | Metro East | Hudson Valley D-I | Hudson Valley D-I | | Men |
| Saint Louis | | | South Central | Ozarks D-I | Ozarks D-I | | Men |
| Saint Rose | | | Metro East | Hudson Valley D-III | Hudson Valley D-III | | Men |
| Salem State | | | New England | North New England D-I | North New England D-I | | Men |
| Salisbury | | | Atlantic Coast | Colonial D-I | Colonial D-I | | Men |
| Salisbury-B | | | Atlantic Coast | Colonial Dev | Colonial Dev | | Men |
| Sam Houston State | | | South Central | South Texas D-I | South Texas D-I | | Men |
| Samford | | | Southeast | Western Southeast D-III | Western Southeast D-III | | Men |
| San Diego | | | Southwest | SoCal D-I | SoCal D-I | | Men |
| San Diego State | | | Southwest | SoCal D-I | SoCal D-I | | Men |
| San Diego State-B | | | Southwest | Southwest Dev | Southwest Dev | | Men |
| San Francisco State | | | Southwest | NorCal D-I | NorCal D-I | | Men |
| San Jose State | | | Southwest | NorCal D-I | NorCal D-I | | Men |
| Santa Clara | | | Southwest | Nor Cal D-I | Nor Cal D-I | | Men |
| Santa Clara-B | | | Southwest | Southwest Dev | Southwest Dev | | Men |
| Savannah Art & Design | | | Southeast | Southern Appalachian D-I | Southern Appalachian D-I | | Men |
| Scranton | | | Ohio Valley | East Penn D-III | East Penn D-III | | Men |
| Seattle | | | Northwest | Northwest D-III | Northwest D-III | | Men |
| Shenandoah | | | Atlantic Coast | Northern Atlantic Coast D-III | Northern Atlantic Coast D-III | | Men |
| Shippensburg | | | Ohio Valley | West Penn D-Ill | West Penn D-Ill | | Men |
| Shippensburg-B | | | Ohio Valley | Pennsylvania Dev | Pennsylvania Dev | | Men |
| Siena | | | Metro East | Hudson Valley D-III | Hudson Valley D-III | | Men |
| Simon Fraser | | | Northwest | Cascadia D-I | Cascadia D-I | | Men |
| Skidmore | | | Metro East | Hudson Valley D-III | Hudson Valley D-III | | Men |
| Slippery Rock | | | Ohio Valley | West Penn D-I | West Penn D-I | | Men |
| Sonoma State | | | Southwest | NorCal D-I | NorCal D-I | | Men |
| South Carolina | | | Atlantic Coast | Carolina D-I | Carolina D-I | | Men |
| South Carolina-B | | | Atlantic Coast | Southern Atlantic Coast Dev | Southern Atlantic Coast Dev | | Men |
| South Dakota Mines | | | North Central | Northwoods D-III | Northwoods D-III | | Men |
| South Dakota State | | | North Central | Northwoods D-I | Northwoods D-I | | Men |
| South Florida | | | Southeast | Florida D-I | Florida D-I | | Men |
| South Florida-B | | | Southeast | Southeast Dev | Southeast Dev | | Men |
| Southern California | | | Southwest | SoCal D-I | SoCal D-I | | Men |
| Southern California-B | | | Southwest | Southwest Dev | Southwest Dev | | Men |
| Southern Connecticut State | | | Metro East | Hudson Valley D-I | Hudson Valley D-I | | Men |
| Southern Illinois | | | Great Lakes | Illinois D-I | Illinois D-I | | Men |
| Southern Illinois-Edwardsville | | | Great Lakes | Illinois D-I | Illinois D-I | | Men |
| Southern Indiana | | | Great Lakes | East Plains D-I | East Plains D-I | | Men |
| Southern Methodist | | | South Central | North Texas D-I | North Texas D-I | | Men |
| Southern Mississippi | | | Southeast | Gulf Coast D-I | Gulf Coast D-I | | Men |
| Southern Polytech State | | | Southeast | Southeast D-III | Southeast D-III | | Men |
| Southern Polytech State-B | | | Southeast | Southeast Dev | Southeast Dev | | Men |
| Southwest Baptist | | | South Central | Northern South Central D-III | Northern South Central D-III | | Men |
| Southwestern | | | South Central | Texas D-III | Texas D-III | | Men |
| Spring Hill | | | Southeast | Southeast D-III | Southeast D-III | | Men |
| Springfield College | | | New England | South New England | South New England | | Men |
| St Cloud State | | | North Central | Northwoods D-I | Northwoods D-I | | Men |
| St John's | | | North Central | Northwoods D-III | Northwoods D-III | | Men |
| St John's (NY) | | | Metro East | Metro NY D-I | Metro NY D-I | | Men |
| St Joseph's | | | Ohio Valley | East Penn D-I | East Penn D-I | | Men |
| St Lawrence | | | Metro East | Western NY D-III | Western NY D-III | | Men |
| St Mary's (Maryland) | | | Atlantic Coast | Northern Atlantic Coast D-III | Northern Atlantic Coast D-III | | Men |
| St Mary's (Maryland)-B | | | Atlantic Coast | Colonial Dev | Colonial Dev | | Men |
| St Mary's (Minnesota) | | | North Central | Northwoods D-III | Northwoods D-III | | Men |
| St Olaf | | | North Central | Northwoods D-III | Northwoods D-III | | Men |
| St Olaf-B | | | North Central | North Central Dev | North Central Dev | | Men |
| St Thomas | | | North Central | Northwoods D-III | Northwoods D-III | | Men |
| St Vincent | | | Ohio Valley | West Penn D-III | West Penn D-III | | Men |
| Stanford | | | Southwest | NorCal D-I | NorCal D-I | | Men |
| Stanford-B | | | Southwest | Southwest Dev | Southwest Dev | | Men |
| Stephen F Austin | | | South Central | North Texas D-I | North Texas D-I | | Men |
| Stetson | | | Southeast | Eastern Southeast D-III | Eastern Southeast D-III | | Men |
| Stevens Tech | | | Metro East | Metro NY D-III | Metro NY D-III | | Men |
| Stevens Tech-B | | | Metro East | Metro NY Dev | Metro NY Dev | | Men |
| Stockton | | | Metro East | Metro NY D-I | Metro NY D-I | | Men |
| Stonehill | | | New England | Metro Boston D-III | Metro Boston D-III | | Men |
| Sul Ross State | | | South Central | Texas D-III | Texas D-III | | Men |
| SUNY-Albany | | | Metro East | Hudson Valley D-I | Hudson Valley D-I | | Men |
| SUNY-Albany-B | | | Metro East | Metro East Dev | Metro East Dev | | Men |
| SUNY-Binghamton | | | Metro East | Western NY D-I | Western NY D-I | | Men |
| SUNY-Binghamton-B | | | Metro East | Metro East Dev | Metro East Dev | | Men |
| SUNY-Brockport | | | Metro East | Western NY D-I | Western NY D-I | | Men |
| SUNY-Buffalo | | | Metro East | Western NY D-I | Western NY D-I | | Men |
| SUNY-Buffalo-B | | | Metro East | Metro East Dev | Metro East Dev | | Men |
| SUNY-Cortland | | | Metro East | Western NY D-III | Western NY D-III | | Men |
| SUNY-Fredonia | | | Metro East | Western NY D-III | Western NY D-III | | Men |
| SUNY-Geneseo | | | Metro East | Western NY D-III | Western NY D-III | | Men |
| SUNY-Geneseo-B | | | Metro East | Metro East Dev | Metro East Dev | | Men |
| SUNY-New Paltz | | | Metro East | Hudson Valley D-I | Hudson Valley D-I | | Men |
| SUNY-Oneonta | | | Metro East | Western NY D-III | Western NY D-III | | Men |
| SUNY-Oneonta B | | | Metro East | Metro East Dev | Metro East Dev | | Men |
| SUNY-Oswego | | | Metro East | Western NY D-I | Western NY D-I | | Men |
| SUNY-Potsdam | | | Metro East | Western NY D-III | Western NY D-III | | Men |
| SUNY-Purchase | | | Metro East | Metro NY D-III | Metro NY D-III | | Men |
| SUNY-Stony Brook | | | Metro East | Metro NY D-I | Metro NY D-I | | Men |
| SUNY-Stony Brook-B | | | Metro East | Metro East Dev | Metro East Dev | | Men |
| Susquehanna | | | Ohio Valley | West Penn D-III | West Penn D-III | | Men |
| Swarthmore | | | Ohio Valley | East Penn D-III | East Penn D-III | | Men |
| Syracuse | | | Metro East | Western NY D-I | Western NY D-I | | Men |
| Syracuse-B | | | Metro East | Metro East Dev | Metro East Dev | | Men |
| Taylor | | | Great Lakes | East Plains D-III | East Plains D-III | | Men |
| Temple | | | Ohio Valley | East Penn D-I | East Penn D-I | | Men |
| Temple-B | | | Ohio Valley | Ohio Valley Dev | Ohio Valley Dev | | Men |
| Tennessee | | | Southeast | Southern Appalachian D-I | Southern Appalachian D-I | | Men |
| Tennessee Tech | | | Southeast | Southern Appalachian D-I | Southern Appalachian D-I | | Men |
| Tennessee-B | | | Southeast | Southeast Dev | Southeast Dev | | Men |
| Tennessee-Chattanooga | | | Southeast | Southern Appalachian D-I | Southern Appalachian D-I | | Men |
| Texas | | | South Central | South Texas D-I | South Texas D-I | | Men |
| Texas A&M | | | South Central | South Texas D-I | South Texas D-I | | Men |
| Texas A&M - Commerce | | | South Central | North Texas D-I | North Texas D-I | | Men |
| Texas A&M-B | | | South Central | South Texas D-I | South Texas D-I | | Men |
| Texas A&M-C | | | South Central | South Central Dev | South Central Dev | | Men |
| Texas Christian | | | South Central | North Texas D-I | North Texas D-I | | Men |
| Texas Christian-B | | | South Central | North Texas D-I | North Texas D-I | | Men |
| Texas Southern | | | Soiuth Central | South Texas D-I | South Texas D-I | | Men |
| Texas State | | | South Central | South Texas D-I | South Texas D-I | | Men |
| Texas State-B | | | South Central | South Central Dev | South Central Dev | | Men |
| Texas Tech | | | South Central | North Texas D-I | North Texas D-I | | Men |
| Texas-Arlington | | | South Central | North Texas D-I | North Texas D-I | | Men |
| Texas-B | | | South Central | South Texas D-I | South Texas D-I | | Men |
| Texas-C | | | South Central | South Central Dev | South Central Dev | | Men |
| Texas-Dallas | | | South Central | North Texas D-I | North Texas D-I | | Men |
| Texas-Dallas-B | | | South Central | North Texas D-I | North Texas D-I | | Men |
| Texas-El Paso | | | South Central | South Texas D-I | South Texas D-I | | Men |
| Texas-Permian Basin | | | South Central | Texas D-III | Texas D-III | | Men |
| Texas-Rio Grande Valley | | | South Central | South Texas D-I | South Texas D-I | | Men |
| Texas-San Antonio | | | South Central | South Texas D-I | South Texas D-I | | Men |
| Texas-Tyler | | | South Central | Texas D-III | Texas D-III | | Men |
| Toledo | | | Ohio Valley | Ohio D-I | Ohio D-I | | Men |
| Toronto | | | Metro East | Western NY D-I | Western NY D-I | | Men |
| Towson | | | Atlantic Coast | Colonial D-I | Colonial D-I | | Men |
| Towson-B | | | Atlantic Coast | Colonial Dev | Colonial Dev | | Men |
| Trevecca | | | Southeast | Western Southeast D-III | Western Southeast D-III | | Men |
| Trine | | | Great Lakes | East Plains D-III | East Plains D-III | | Men |
| Trinity | | | South Central | Texas D-III | Texas D-III | | Men |
| Trinity-B | | | South Central | South Central Dev | South Central Dev | | Men |
| Troy | | | Southeast | Gulf Coast D-I | Gulf Coast D-I | | Men |
| Truman State | | | South Central | Northern South Central D-III | Northern South Central D-III | | Men |
| Tufts | | | New England | Metro Boston D-I | Metro Boston D-I | | Men |
| Tufts-B | | | New England | Metro Boston Dev | Metro Boston Dev | | Men |
| Tufts-C | | | New England | Metro Boston | Metro Boston | | Men |
| Tulane | | | Southeast | Gulf Coast D-I | Gulf Coast D-I | | Men |
| Tulane-B | | | Southeast | Southeast Dev | Southeast Dev | | Men |
| Tulsa | | | South Central | Ozarks D-III | Ozarks D-III | | Men |
| UCLA | | | Southwest | SoCal D-I | SoCal D-I | | Men |
| UCLA-B | | | Southwest | Southwest Dev | Southwest Dev | | Men |
| Union | | | Metro East | Hudson Valley D-III | Hudson Valley D-III | | Men |
| Union (Tennessee) | | | Southeast | Western Southeast D-III | Western Southeast D-III | | Men |
| Ursinus | | | Ohio Valley | East Penn D-III | East Penn D-III | | Men |
| Utah | | | Northwest | Big Sky D-I | Big Sky D-I | | Men |
| Utah State | | | Northwest | Big Sky D-I | Big Sky D-I | | Men |
| Utah Valley | | | Northwest | Big Sky D-I | Big Sky D-I | | Men |
| Valdosta State | | | Southeast | Southern Appalachian D-I | Southern Appalachian D-I | | Men |
| Valparaiso | | | Great Lakes | East Plains D-III | East Plains D-III | | Men |
| Vanderbilt | | | Southeast | Gulf Coast D-I | Gulf Coast D-I | | Men |
| Vanderbilt-B | | | Southeast | Southeast Dev | Southeast Dev | | Men |
| Vassar | | | Metro East | Hudson Valley D-III | Hudson Valley D-III | | Men |
| Vassar-B | | | Metro East | Metro East Dev | Metro East Dev | | Men |
| Vermont | | | New England | North New England D-I | North New England D-I | | Men |
| Vermont-B | | | New England | Greater New England Dev | Greater New England Dev | | Men |
| Vermont-C | | | New England | Greater New England Dev | Greater New England Dev | | Men |
| Victoria | | | Northwest | Cascadia D-I | Cascadia D-I | | Men |
| Villanova | | | Ohio Valley | East Penn D-I | East Penn D-I | | Men |
| Villanova-B | | | Ohio Valley | Ohio Valley Dev | Ohio Valley Dev | | Men |
| Virginia | | | Atlantic Coast | Virginia D-I | Virginia D-I | | Men |
| Virginia Commonwealth | | | Atlantic Coast | Virginia D-I | Virginia D-I | | Men |
| Virginia Commonwealth-B | | | Atlantic Coast | Virginia Dev | Virginia Dev | | Men |
| Virginia Tech | | | Atlantic Coast | Virginia D-I | Virginia D-I | | Men |
| Virginia Tech-B | | | Atlantic Coast | Virginia Dev | Virginia Dev | | Men |
| Virginia-B | | | Atlantic Coast | Virginia Dev | Virginia Dev | | Men |
| Wake Forest | | | Atlantic Coast | Carolina D-I | Carolina D-I | | Men |
| Warren Wilson | | | Atlantic Coast | Carolina D-III | Carolina D-III | | Men |
| Wartburg | | | North Central | West Plains D-III | West Plains D-III | | Men |
| Washington | | | Northwest | Cascadia D-I | Cascadia D-I | | Men |
| Washington State | | | Northwest | Big Sky D-I | Big Sky D-I | | Men |
| Washington University | | | South Central | Ozarks D-I | Ozarks D-I | | Men |
| Washington University-B | | | South Central | Ozarks D-I | Ozarks D-I | | Men |
| Washington-B | | | Northwest | Cascadia D-I | Cascadia D-I | | Men |
| Washington-C | | | Northwest | Cascadia D-I | Cascadia D-I | | Men |
| Waterloo | | | Metro East | Western NY D-I | Western NY D-I | | Men |
| Wentworth | | | New England | Metro Boston D-III | Metro Boston D-III | | Men |
| Wesleyan | | | Metro East | Hudson Valley D-III | Hudson Valley D-III | | Men |
| Wesleyan-B | | | Metro East | Metro East Dev | Metro East Dev | | Men |
| West Chester | | | Ohio Valley | East Penn D-I | East Penn D-I | | Men |
| West Chester-B | | | Ohio Valley | Pennsylvania Dev | Pennsylvania Dev | | Men |
| West Georgia | | | Southeast | Southern Appalachian D-I | Southern Appalachian D-I | | Men |
| West Virginia | | | Ohio Valley | West Penn D-I | West Penn D-I | | Men |
| West Virginia-B | | | Ohio Valley | Pennsylvania Dev | Pennsylvania Dev | | Men |
| Western Carolina | | | Atlantic Coast | Carolina D-I | Carolina D-I | | Men |
| Western Illinois | | | Great Lakes | Illinois D-I | Illinois D-I | | Men |
| Western Kentucky | | | Great Lakes | East Plains D-I | East Plains D-I | | Men |
| Western Michigan | | | Great Lakes | Michigan D-I | Michigan D-I | | Men |
| Western Michigan-B | | | Great Lakes | Eastern Great Lakes Dev | Eastern Great Lakes Dev | | Men |
| Western Ontario | | | Metro East | Western NY D-I | Western NY D-I | | Men |
| Western Washington | | | Northwest | Cascadia D-I | Cascadia D-I | | Men |
| Western Washington-B | | | Northwest | Cascadia D-I | Cascadia D-I | | Men |
| Westfield State | | | New England | South New England D-III | South New England D-III | | Men |
| Westmont | | | Southwest | Southwest D-III | Southwest D-III | | Men |
| Wheaton (Illinois) | | | Great Lakes | Illinois D-III | Illinois D-III | | Men |
| Wheaton (Massachusetts) | | | New England | Metro Boston D-III | Metro Boston D-III | | Men |
| Whitman | | | Northwest | Northwest D-III | Northwest D-III | | Men |
| Whitworth | | | Northwest | Northwest D-III | Northwest D-III | | Men |
| Wichita State | | | South Central | Ozarks D-I | Ozarks D-I | | Men |
| Wilkes | | | Ohio Valley | East Penn D-III | East Penn D-III | | Men |
| Willamette | | | Northwest | Northwest D-III | Northwest D-III | | Men |
| William & Mary | | | Atlantic Coast | Virginia D-I | Virginia D-I | | Men |
| William & Mary-B | | | Atlantic Coast | Southern Atlantic Coast Dev | Southern Atlantic Coast Dev | | Men |
| Williams | | | New England | South New England D-III | South New England D-III | | Men |
| Williams-B | | | New England | Greater New England Dev | Greater New England Dev | | Men |
| Wingate | | | Atlantic Coast | Carolina D-III | Carolina D-III | | Men |
| Winona State | | | North Central | Northwoods D-III | Northwoods D-III | | Men |
| Wisconsin | | | North Central | Lake Superior D-I | Lake Superior D-I | | Men |
| Wisconsin-B | | | North Central | North Central Dev | North Central Dev | | Men |
| Wisconsin-C | | | North Central | North Central Dev | North Central Dev | | Men |
| Wisconsin-Eau Claire | | | North Central | Lake Superior D-I | Lake Superior D-I | | Men |
| Wisconsin-Eau Claire-B | | | North Central | North Central Dev | North Central Dev | | Men |
| Wisconsin-Green Bay | | | North Central | Lake Superior D-III | Lake Superior D-III | | Men |
| Wisconsin-La Crosse | | | North Central | Lake Superior D-I | Lake Superior D-I | | Men |
| Wisconsin-La Crosse-B | | | North Central | Lake Superior Dev | Lake Superior Dev | | Men |
| Wisconsin-Milwaukee | | | North Central | Lake Superior D-I | Lake Superior D-I | | Men |
| Wisconsin-Milwaukee-B | | | North Central | North Central Dev | North Central Dev | | Men |
| Wisconsin-Oshkosh | | | North Central | Lake Superior D-I | Lake Superior D-I | | Men |
| Wisconsin-Oshkosh-B | | | North Central | Lake Superior D-I | Lake Superior D-I | | Men |
| Wisconsin-Parkside | | | North Central | Lake Superior D-III | Lake Superior D-III | | Men |
| Wisconsin-Platteville | | | North Central | Lake Superior D-III | Lake Superior D-III | | Men |
| Wisconsin-River Falls | | | North Central | Lake Superior D-III | Lake Superior D-III | | Men |
| Wisconsin-Stevens Point | | | North Central | Lake Superior D-I | Lake Superior D-I | | Men |
| Wisconsin-Stout | | | North Central | Lake Superior D-I | Lake Superior D-I | | Men |
| Wisconsin-TIE | | | North Central | North Central Dev | North Central Dev | | Men |
| Wisconsin-Whitewater | | | North Central | Lake Superior D-I | Lake Superior D-I | | Men |
| Wofford | | | Atlantic Coast | Carolina D-III | Carolina D-III | | Men |
| Wooster | | | Ohio Valley | Ohio D-III | Ohio D-III | | Men |
| Wooster-B | | | Ohio Valley | Ohio Valley Dev | Ohio Valley Dev | | Men |
| Worcester Polytech | | | New England | South New England D-III | South New England D-III | | Men |
| Worcester Polytech-B | | | New England | Greater New England Dev | Greater New England Dev | | Men |
| Wright State | | | Ohio Valley | Ohio D-I | Ohio D-I | | Men |
| Wright State-B | | | Ohio Valley | Ohio Dev | Ohio Dev | | Men |
| Wyoming | | | South Central | Rocky Mountain D-I | Rocky Mountain D-I | | Men |
| Xavier | | | Ohio Valley | Ohio D-III | Ohio D-III | | Men |
| Yale | | | Metro East | Hudson Valley D-I | Hudson Valley D-I | | Men |
| Yale-B | | | Metro East | Metro East Dev | Metro East Dev | | Men |
| York | | | Ohio Valley | East Penn D-III | East Penn D-III | | Men |
| York (Pennsylvania) | | | Ohio Valley | East Penn D-III | East Penn D-III | | Men |
| Young Harris | | | Southeast | Southeast D-III | Southeast D-III | | Men |
| Youngstown State | | | Ohio Valley | Ohio D-I | Ohio D-I | | Men |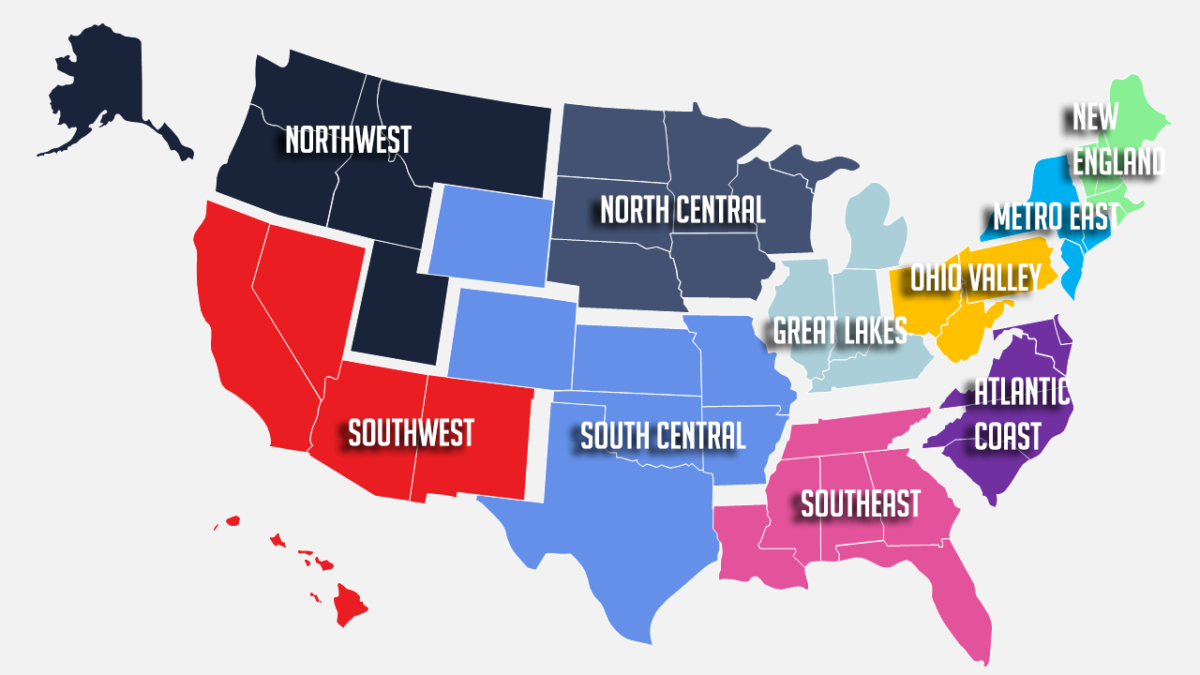 Alabama, Florida, Georgia, Louisiana, Mississippi, Tennessee
Arizona, California, Hawaii, New Mexico