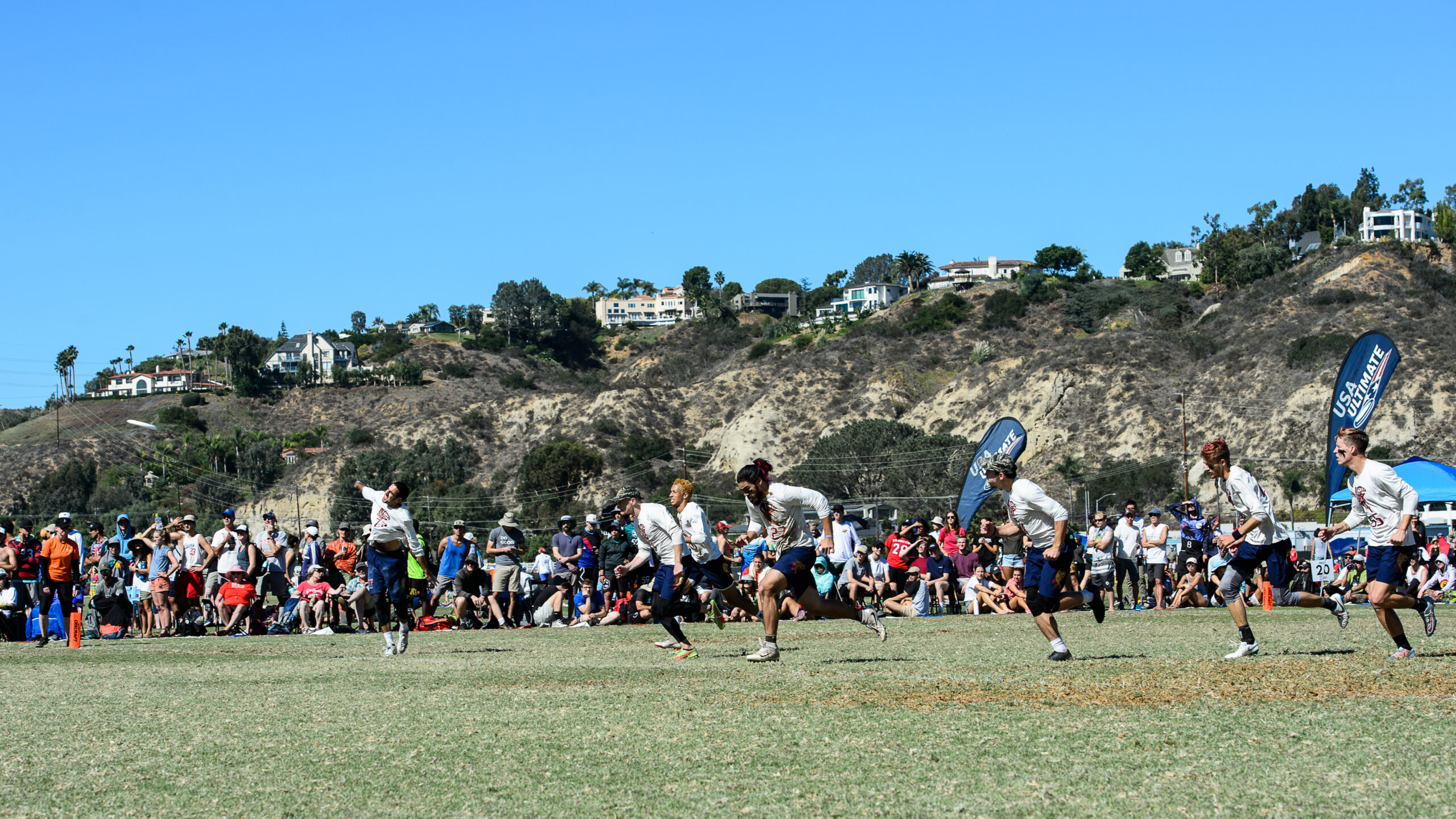 Host a Championship Event
Bring a championship-level event to your community!
USA Ultimate partners with hundreds of communities across the country every year to host championship events ranging from high school state championships to college and club sectional and regional events to national championship events.
Hosting major events can help promote ultimate in your area; generate revenue for your organization, team or city; highlight your city and region; build community through volunteerism and more.
Learn more about the events you can host in your community and how to submit a bid.
Upcoming Events
2023
Events
Dates
Bid Deadline
Bid Document
Contact
High School State Championships
Middle School State Championships
College Mixed Fours Regionals
2024
Events
Dates
Bid Deadline
Bid Document
Contact
U.S. Open Club Championships
HQ Contacts
| Name | Title | Email |
| --- | --- | --- |
| Tom Crawford | Chief Executive Officer | tom@hq.usaultimate.org |
| Julia Lee | Director, Finance & Development | julia@hq.usaultimate.org |
| Will Deaver | Managing Director, Athlete & National Team Programs | will@hq.usaultimate.org |
| Marc Zigterman | Manager, Athlete & National Team Programs (Club) | marc@hq.usaultimate.org |
| Byron Hicks | Events Manager | byron@hq.usaultimate.org |
| Dana Jefferson | Manager, Athlete & National Team Programs (Youth); Equity, Diversity & Inclusion Co-Chair | dana@hq.usaultimate.org |
| Matthew Bourland | Manager, Athlete & National Team Programs (College) | matthew@hq.usaultimate.org |
| David Raflo | Events Manager | david.raflo@hq.usaultimate.org |
| Andy Lee | Managing Director, Marketing, Communications & Brand | andy@hq.usaultimate.org |
| Bryan Geenen | Manager, Communications | bryan@hq.usaultimate.org |
| Stacey Waldrup | Director, Members Services & Community Development; Equity, Diversity & Inclusion Co-Chair | stacey@hq.usaultimate.org |
| Sam Callan | Manager, Youth & Education Programs | sam@hq.usaultimate.org |
| Leah Dolan-Kelley | Manager, Community Development & H.R. | leah@hq.usaultimate.org |
| Kirstin Graham | Manager, Online Technology | kirstin@hq.usaultimate.org |
| Gervon Williams | Manager, EDI & Youth Engagement | gervon@hq.usaultimate.org |
| Emily Woolridge | Coordinator, Event Sanctioning | emily@hq.usaultimate.org |