Twelve New Members Welcomed into Ultimate Hall of Fame in 2018 Class
Colorado Springs, Colo. (July 25, 2018) – The Ultimate Hall of Fame and USA Ultimate, the national governing body for the sport of ultimate in the United States, are excited to welcome twelve new Hall of Famers in the Class of 2018.
The 2018 Class includes open division inductees Bob DeMan, Greg Husak, Allan "Al Bob" Nichols, Brian "Biscuit" Morris, along with open Look Back Inductees Paul Brenner and Ian Hue (formerly Hutchinson). Women's division inductees include Dominique Fontenette, Angela Lin and Tina McDowell, along with women's Look Back Inductees Michele Pezzoli and Joanie Merrill. The contributor inductee is Michael Baccarini.
The 2018 inductees were selected by the current Ultimate Hall of Fame voting members from a final slate of 20 player candidates announced in May, with the additional consideration of two contributor candidates and five Look Back candidates (three open players from the 1968-1978 and 1979-1988 periods and two women's players from the 1979-1988 period) included on the final ballots. The candidates included in the Call to the Community were chosen by the Hall of Fame Vetting Subcommittee from an accomplished pool of athletes and contributors through a review of peer voting results and written applications solicited by the committee.
The Hall of Fame Committee continues to incorporate improvements into the process to enable a "catch-up period" in advance of the next formal Hall of Fame Induction ceremony to be held in October 2018 as part of the celebration of the 50th anniversary of ultimate. To be inducted into the Ultimate Hall of Fame, potential candidates must complete three steps. The first stage involves "peer voting," where potential candidates are reviewed and ranked by a group of players or contributors from their own playing era. During the current catch-up phase, the second stage involves winnowing the field down to a slate of up to 20 player candidates through a review of the peer voting results and written applications solicited by the six-person Vetting Subcommittee. The slate of 20 is announced in the Call to the Community which requests input from the ultimate community at-large. The final stage involves two rounds of voting for 10 player candidates and, this year, two contributor candidates, by the full voting committee, comprised of the Vetting Subcommittee and the player and contributor members of the Ultimate Hall of Fame. For 2018, gender-based voting was initiated for player candidates with women Hall of Fame members voting on women player candidates and open members voting on open player candidates. All Hall of Fame members cast votes for the contributor candidates. Also instituted for 2018 was a Look Back process to recognize candidates who may have been overlooked in prior years. Inductees in all categories must receive an affirmative vote by at least two-thirds of the voters to be selected.
"I am proud of the efforts of the ultimate community and Hall of Fame members as we continue to improve the selection process which yielded this impressive group of new Hall of Fame members," said Hall of Fame Committee Chair Suzanne Fields. "We had an excellent class of nominees this year, all worthy of consideration. We are so pleased to welcome these 12 new members into the Ultimate Hall of Fame."
The Class of 2018 is the 15th class inducted into the Ultimate Hall of Fame, which was established in 2004 to honor the men and women whose accomplishments as athletes and contributors merit acknowledgement by their peers. The 2018 class will be officially inducted into the Ultimate Hall of Fame during a ceremony at the 2018 National Championships in San Diego, where the Ultimate Foundation and the community at large will celebrate the 50th anniversary of our sport.
"We are excited to welcome the newest members of the Ultimate Hall of Fame," said Dr. Tom Crawford, USA Ultimate Chief Executive Officer. "We are inspired by the phenomenal accomplishments and collective contributions of the inductees and are proud to recognize these 12 new members of the Hall of Fame. We look forward to honoring them all at the Hall of Fame Dinner and Awards Ceremony, one of the events at the 50th Anniversary Reunion and Celebration during the National Championships in San Diego later this year."
Hall of Fame Class of 2018
Player Inductees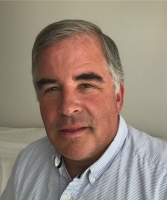 Paul Brenner was regarded as one of the best all-around players in the 1970s. As a member of the Cornell Buds from 1975-1978, which featured three other future Hall of Fame players who later reached their peaks, Paul, along with fellow Hall of Famer Jon Cohn was the primary focus of opponents. Paul had the vision, intensity and talent to dominate the ultimate field and helped lead his Cornell teams into the semifinals and finals of the biggest tournaments of this era. Paul is acknowledged as being among the first to perfect the hammer throw, illuminating its potential as a major offensive weapon and zone buster. He used that expertise to team with Cohn to win the Double Disc Court event at the '81 World Overall Championships. Paul continued to play in the club open division well into the early 90s, but in relative obscurity on teams in upstate New York. While these teams lacked the experience or depth to compete for national championships, Paul used the situation to teach many youngsters how to play the game along the way.
---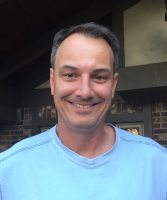 Bob DeMan was one of the stars of the dominant NYNY dynasty. Standing 6'4″, Bob was that rare big man whose game was not defined by owning the sky and dominating the end zone, but rather by his keen offensive understanding, smooth graceful movement and powerful breakmark throws. Usually playing the third person in NYNY's vaunted four-man offensive pull play, Bob's job was to gain large chunks of yards and then look to throw for the goal. As a member of NYNY, Bob won five consecutive UPA National Championships in the club open division from 1989-1993, along with three WFDF World Championships. Following two more appearances in the semis at UPA Nationals with the New York Cojones, the full breadth of Bob's talents were revealed when he moved to Texas. Bob's presence led the Houston Houndz to new heights and into the national forefront, winning Southern Regionals for the first time in 1997, and back-to-back appearances at UPA Nationals in 1997-1998. Bob was an unstoppable offensive force.
---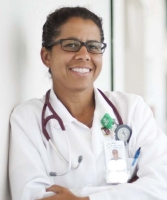 Dominique has been a dominant force in the women's division since she first began to play. Winning the Callahan Award and a national title during her time at Stanford, she continued playing with premier women's teams in the Bay Area and Boston and currently plays in Seattle with Riot. Over the length of her career, Dom has been a key team member with four UPA National Championships in the club women's division and six WFDF World Championship titles in multiple divisions, including being named to six U.S. National Teams – a remarkable feat. In addition to being continuously successful on the field, she has displayed exemplary sportsmanship and fair play at every level. Dom's athleticism and versatility as a player contribute to her ability to fill many different roles on the team/field and has enabled her to easily integrate into new systems and teams.

Dom has participated in many teaching clinics over the last couple of decades (U.S., Japan, Uganda) and, more recently, organized a clinic for East African players (Tanzania, Kenya, Uganda) in Kisumu, Kenya. And throughout this exemplary ultimate career, Dom practices as an emergency medicine physician.
---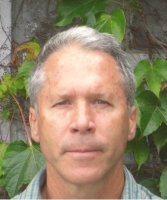 Ian "Wiggan" Hue (Hutchinson) was regarded as the best player on the Boulder Stains teams of the 1980s. A former college football player at James Madison University, Ian was well known for his speed, agility and complete game on both sides of the disc, which produced highlight reel plays on offense and defense. Playing primarily at the deep position, and always matched up against the other team's top downfield players, Ian was a goal-scoring machine on offense due to his flawless cuts, relentless work ethic and exceptionally strong hands. Ian's playing career included 17 years in the club open division and ended with a championship in the masters division at UPA Nationals in 2005 with Colorado's Old & In The Way. Quiet on the field and off, Ian loved the sport of ultimate and earned the highest respect of his peers as someone who always played the game with consummate high character, integrity and sportsmanship.
---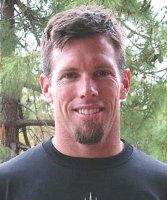 Greg "Hollywood" Husak was one of the influential leaders and dominant players that reestablished the legendary Santa Barbara Condors as the best team in the sport in the early 2000s. Greg instilled in his teammates the same focus and work ethic he brought to the field, driving them to greater success. Greg first announced his presence as an impact player in the sport while leading the California-Santa Barbara Black Tide to a "three-peat" as UPA National Champions in the college division from 1996-1998. Greg, as co-captain, helped the Condors reach the finals at UPA Nationals in the club open division five times during the six-year period from 1998-2003, which included back-to-back titles in 2000 and 2001, along with a WFDF World Championship in 2002. Playing primarily on the defensive line, Greg matched up against the other team's top threat. On the turn, Greg's cutting prowess made him a significant part of the offense and key goal scorer. Greg then took his talents north to San Francisco Jam. Adapting his leadership skills to a different team culture, Greg, again as co-captain, helped Jam finally get over the hump, winning UPA Nationals in the club open division in 2008. Greg earned a reputation as someone who played with integrity, led by example and left it all on the field.
---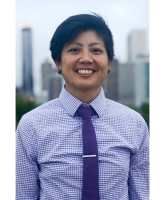 Angela Lin began her career at Georgia Tech in the mid-1990s and thereafter spent the majority of her career with Ozone. Early on, she committed to developing her offensive skills and was one of the pioneers of breakmark throws.

As her career progressed, so did she. She worked tirelessly to continue pushing her fitness, speed, power and durability, allowing her to develop outstanding defensive skills as well. She was aggressive without being too physical. With her closing speed and endurance, she could battle with anyone. Angela is a true all-around player who has always played with great spirit, no matter how important the moment.

As a leader, Angela inspires her teammates with her actions and supportive words. She has earned the respect of all of her opponents and teammates.
She currently is a co-owner and co-captain of Atlanta Soul, a new professional women's team in Atlanta. Angela has given back to ultimate by hosting many women's clinics, captained many seasons, coached high school and club teams and been a true ambassador for our sport.
---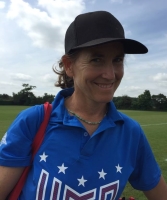 Tina McDowell began her ultimate career playing in the college open division with the University of Georgia and then had a long career playing in Atlanta and Denver with Ozone, Rare Air and Molly Brown in the club women's division, and thereafter, went on to a successful run in the masters division, including the women's masters title in London at the World Ultimate and Guts Championships in 2016. With a strong mental game, she was super competitive but didn't let her competitiveness deter her commitment to the Spirit of the Game. She played with heart, integrity, grit and determination. She was a tough, fair player and a leader on the field with the ability to bring out the best in her teammates.

Solid in every part of the game, Tina could throw to anywhere on the field, play effective defense against any opponent and rally her team around her for the win. She was the total package. Tina loved the game. She loved her team, our community and our sport, and it shows in how she carried herself both on and off the field.
---
Joanie Merrill was instrumental in the Santa Barbara Condors' domination throughout the 1980s at the national and world levels. She began her career in 1982 with the Condors, transitioning to ultimate after an accomplished career as a member of the California-Santa Barbara crew team.

Joanie was always on the field when it mattered and was relied upon to cover the "tall game," which she played with grace, fierce competitiveness and tenacity. Joanie had a very well-rounded game; she could throw with precision and depth and sky with the best of them. With a wingspan of about six feet, along with her quickness and coordination, Joanie was an incredible marker and would consistently hand block the best of the best. Her defensive acumen, powerful throwing capabilities and ability to "go up" with the tallest women in the world enabled Joanie to contribute in a big way to the Condors' great success. Joanie's teams won five UPA National Championships in the club women's division and three WFDF World Championships.

In addition to her playing skills, Joanie has been an example of fair play and Spirit of the Game.
---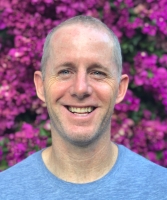 Brian "Biscuit" Morris was best known for his exceptional athleticism. Quick, fast and able to out-jump everyone at just 5'11″, Brian was the guy the other teams did not have an answer for. As an elite player for over a decade, Brian played at UPA Nationals in the club open division 12 times on prominent Bay Area teams Firestorm, Double Happiness and Jam, with three appearances in the finals. His greatest accomplishment was leading Double Happiness to a WFDF World Championship in 1995. Brian could shut down the best offensive players in the game and get open and catch bombs against the best defenders. He was fiercely competitive and insisted on that same standard for his teammates. At the same time, Brian was known to be gracious and respectful with his opponents and a player and person of high character.
---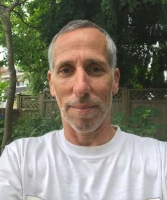 Allan "Al-Bob" Nichols was an exceptional all-around player who was regarded as the hidden glue of the highly successful Vancouver Furious George teams of the late 1990s and mid-2000s, teams that won three UPA National Championships in the club open division and two WFDF World Championships. Al was an elite shut-down defender who matched up against the opponent's top cutters. But he was also an elite offensive player with a full range of throwing skills and the ability to play either behind the disc or downfield. Given his versatility and high ultimate IQ, Al was regarded as the most consistent big-game player on Furious. While a fierce competitor, Al played with integrity and sportsmanship, earning the respect of his opponents and teammates.
---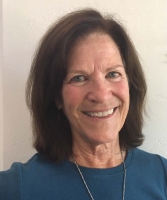 Michele was one of the first women to play on a men's ultimate team in the early days of the sport. She was instrumental in pushing the founders of ultimate to establish a women's division at Nationals in 1981. She started the Santa Barbara Condor Women's Ultimate team which eventually grew into the most dominant women's team of the 1980s. Her leadership enabled the Santa Barbara women to develop into a highly competitive team that succeeded in winning five UPA National Championships in the club women's division and one WFDF World Championship during Michele's tenure.

Michele welcomed all those interested in playing ultimate and imbued her teammates with the values of respect, friendship, perseverance and fun. Michele had an extremely strong work ethic and, above all, set the standard for the Spirit of the Game. Michele was a skilled player who could be counted on for solid play in the toughest of games. Under Michele's leadership, bringing your best to practice and playing with integrity were as much a focus as winning in competition.

Michele was also recently inducted into the FPA Freestyle Hall of Fame and was an accomplished Overall competitor in the mid- to late-1970s and into the early 1980s.
---
Contributor Inductee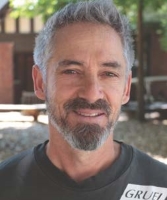 Michael has coached and inspired several generations of young ultimate athletes since becoming Head of Ultimate Programs at Paideia School in Atlanta in 1994, with dozens of players he coached going on to leading roles on national championship teams, as well as receiving Callahan/Pufahl/Farricker awards in recognition for their spirited play. Countless others picked up a love for the game, and many have gone on to give back to the sport by serving in coaching or administrative roles. In addition to being the head coach for the Paideia Middle School (coed) and Paideia High School (varsity boys), which were High School National Champions in 2001 and 2002, he founded Paideia Ultimate Summer Camp for nine-14 year-old children in 1997.

On the national stage, Michael volunteered as National Youth Director of the UPA from 1999-2001 and was on the Youth Advisory Council from 2002-2005, which established long-range plans for youth development; designed a coach training and certification program (now known as CDP); and created a new full-time Director of Youth Development position. He was the U-19 U.S. Open National Team Coach (with Tiina Booth in 1998, 2000, 2004, and sole head coach in 2006), winning three gold medals and one bronze, and was head coach of the U-19 YCC Champion ATLiens in 2013. He was also co-author of "Essential Ultimate: Coaching, Teaching, Playing" published in 2008.
---
The Vetting Sub-Committee included:
Suzanne Fields (Chair, Hall of Fame Committee) – Hall of Fame Inaugural Class of 2004
David Barkan (Open Peer Co-Lead) – Hall of Fame Class of 2010
Gloria Lust-Phillips (Women's Division Chair) – Hall of Fame Class of 2008
Robert "Nob" Rauch (Contributor Peer Chair) – Hall of Fame Class of 2006
Keay Nakae (Open Peer Co-Lead/Ad-hoc subcommittee member) – Hall of Fame Class of 2012
Henry Thorne (USA Ultimate Board Liaison)
This year's selection process also received significant support from:
Pam Kraus – Hall of Fame Class of 2017
Cliff Marhoefer – Hall of Fame Class of 2011
Chris Van Holmes – Hall of Fame Class of 2013