Five New Members Welcomed into Ultimate Hall of Fame in 2019 Class
Colorado Springs, Colo. (Nov. 5, 2019) – The Ultimate Hall of Fame and USA Ultimate, the national governing body for the sport of ultimate in the United States, are excited to welcome five new Hall of Famers in the Class of 2019.
The 2019 Class includes women's division inductees Allison Boyd, Deb (Cussen) Scheibe and Lori Parham Ewald. These new inductees are joined by the open division's Walter VanderSchraaf and Contributor Brian Dobyns.
"We are very excited to welcome the 2019 members to the Ultimate Hall of Fame," said Dr. Tom Crawford, USA Ultimate Chief Executive Officer. "The commendable accomplishments and collective contributions – both on and off the field – of the inductees are truly inspirational, and we are proud to recognize these five new members of the Hall of Fame. We look forward to honoring them at the next Hall of Fame Induction ceremony to take place during the 2023 National Championships."
The 2019 inductees were selected by the current USA Ultimate Hall of Fame voting members from a final slate of 14 player candidates announced in September, with the additional consideration of one contributor candidate. The candidates included in the Call to the Community were chosen by the Hall of Fame Vetting Subcommittee from an accomplished pool of athletes and contributors through a review of peer voting results and written applications solicited by the committee.
To be inducted into the Ultimate Hall of Fame, potential candidates must complete three steps. The first stage involves "peer voting," where potential candidates are reviewed and ranked by a group of players or contributors from their own playing era. The second stage involves winnowing the field down to a slate of up to 14 player candidates through a review of the peer voting results and written applications solicited by the six-person Vetting Subcommittee. The slate of 15 was announced in the Call to the Community, which requested input from the ultimate community at-large. The final stage involves two rounds of voting for the player candidates, and this year one contributor candidate, by the full voting committee, comprised of the Vetting Subcommittee and the player and contributor members of the Ultimate Hall of Fame. Since 2018, voting has been segmented by division for player candidates, with women Hall of Fame members voting on women player candidates and open members voting on open player candidates. All Hall of Fame members cast votes for the contributor candidates. Inductees in all categories must receive an affirmative vote by at least two-thirds of the voters to be selected.
"I continue to be proud of the efforts of the ultimate community and Hall of Fame members as we strive to improve the selection process. We had an excellent class of nominees this year, all worthy of consideration," said Hall of Fame Committee Chair Suzanne Fields. "We are so pleased to welcome these five new members into the Ultimate Hall of Fame."
The Class of 2019 is the 16th class inducted into the Ultimate Hall of Fame, which was established in 2004 to honor the men and women whose accomplishments as athletes and contributors merit acknowledgement by their peers. The 2019 Class will be officially inducted into the Ultimate Hall of Fame during a ceremony at the 2023 National Championships where we will honor the 2019 through 2023 inductees.
Hall of Fame Class of 2019
Player Inductees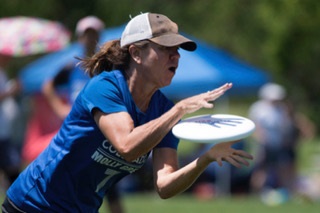 Allison (Allie) started playing intramural ultimate at Southern Illinois University in Carbondale in the summer of 1986, and that fall she joined Full Tilt, the college men's team. After moving to Colorado, Allie joined Boulder's women's team, DV8, and continued with the team when they became Rare Air. She played with those Boulder-based teams for 19 years and captained for 14 years. After 15 National Championship tournaments, Allie transitioned to the masters team, Well Done, and won two national championships in 2009 and 2010. Allie's longevity in the sport is remarkably impressive: 33 years and counting. She continues to play on the women's masters team, Molly Grey, earning a Masters Championships title in 2016. Described as the heart and soul of women's ultimate in Colorado, she is a relentless competitor and legendary leader while embodying Spirit of the Game (SOTG), as evidenced by winning the Kathy Pufahl Spirit Award in 2008.
---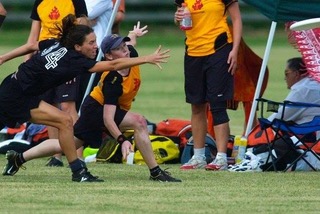 Deb started her ultimate career in 1994 on Carleton College's Syzygy. The team qualified for the College Championships from 1995 – 1998, and Deb captained the team in 1997 and 1998, helping the team to a second place finish in her final year with the team. In 1999, Deb was the only rookie on Seattle's Women On The Verge and played in the World Ultimate Club Championships (WUCC) in St. Andrews, Scotland, leading the team to a gold medal and team spirit award. As one of the founders of Seattle Riot, she helped establish the program as an elite team, both in the United States and internationally. Leading Riot to a world title, two national championships (including an undefeated season) and numerous other finals and semi-finals appearances, Deb was a driving force behind the success of the team. Deb played on two gold medal winning U.S. National Teams at the World Games, both in 2005 (Germany) and 2009 (Taiwan). While in Atlanta for physical therapy school, Deb joined Ozone for the 2007-2009 seasons and was a captain in her last year with the team. Following a break to focus on her physical therapy career and the birth of her two sons, Deb was back at it as a key member of iRot in the masters division, where she helped her team win a world championship at the World Masters Ultimate Club Championships (WMUCC) in 2018 and a second place finish at the Masters Championships in 2019. Playing with the Seattle-based mixed team, Mixtape, Deb was called up from practice player to competitor at the 2019 National Championships in October in San Diego.
---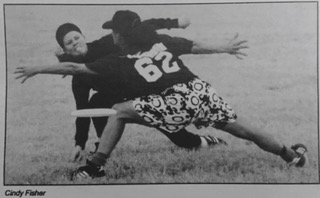 Lori (Parham) Ewald began her 22-year career at Indiana University playing college ultimate from 1989-1993 and also with the area's leading women's club team, Nemesis, in '92 and '93. Thereafter, Lori played with Ozone and Lady Godiva, and competed at Club Nationals for 12 consecutive years (15 total). During Lori's tenure with Godiva, the team won five National Championships in '97, '98, '00, '01 and '02. In international competition, she helped Godiva win a gold medal at the '98 World Ultimate and Guts Championships (WUGC), contributed to Ozone's silver medal in '95 and was part of Godiva's bronze medal performance in '02 at the WUCC.

Lori's success at the highest levels of the sport was evidenced by her offensive skill set, throwing accuracy and ability to break the mark. A skilled handler and top player, Lori was also involved in teaching, coaching, mentoring and volunteering as a sectional/regional coordinator in three regions. Lori coached the Brown University women's team to a College Championships semifinals appearance in '99, quarterfinals in '00 and semifinals again in '01. While coaching at Brown, she contributed to team leadership and the grassroots development of girls and women in ultimate; this led to a successful recruiting pipeline for Godiva. In addition to recruiting, Lori contributed to Godiva's success as a leader and captain. Her understanding of strategy and tactics and her ability to execute those tactics, along with her ability to teach others, made the whole team better. Nothing could stop Lori's competitive drive, including playing with a broken right hand and throwing left-handed at the '95 National Championships. Lori lives in Atlanta and spends her time developing a savage seven team consisting of her husband and their six children.
---
Walter was introduced to ultimate while in middle school in New Jersey in the late 1970's by his first team, the "Summit No Sweat", a mixed team. He spent many summer nights honing his game on the hallowed parking lot of Columbia High School. Having developed into a strong all-around player at the University of Vermont, Walter joined the fabled NYC Spot in 1986, which was one-half of the historic merger with Kaboom that became NYNY in 1987. While surrounded by numerous high-profile future Hall of Fame players, Walter thrived in his role as a key defensive player for all six of NYNY's National Championship titles, as well as its five WFDF gold medals. After NYNY, Walter's skills on both offense and defense were a significant factor in the success of other Nationals-caliber NYC-based teams during the next eight years, reaching the semifinals in '94 and '95 with the Cojones, and again in '98 with the WSL All-Stars.

While shorter in height than others, Walter utilized his quickness and intelligence to gain advantages. He played every point with passion, focus and the endurance and desire to never give up on a play. Walter was universally respected by his peers as one who strived to play the game at the highest level possible, always acted selflessly to help his team, made those around him better and never let his will to win compromise his behavior on or off the field. For nearly 40 years, Walter has been an ambassador of the game, teaching and mentoring countless players, always leading by example. Continuing to play competitively in 2019, Walter added another championship medal to his collection as a member of the great grand masters team, Relics.
Contributor Inductee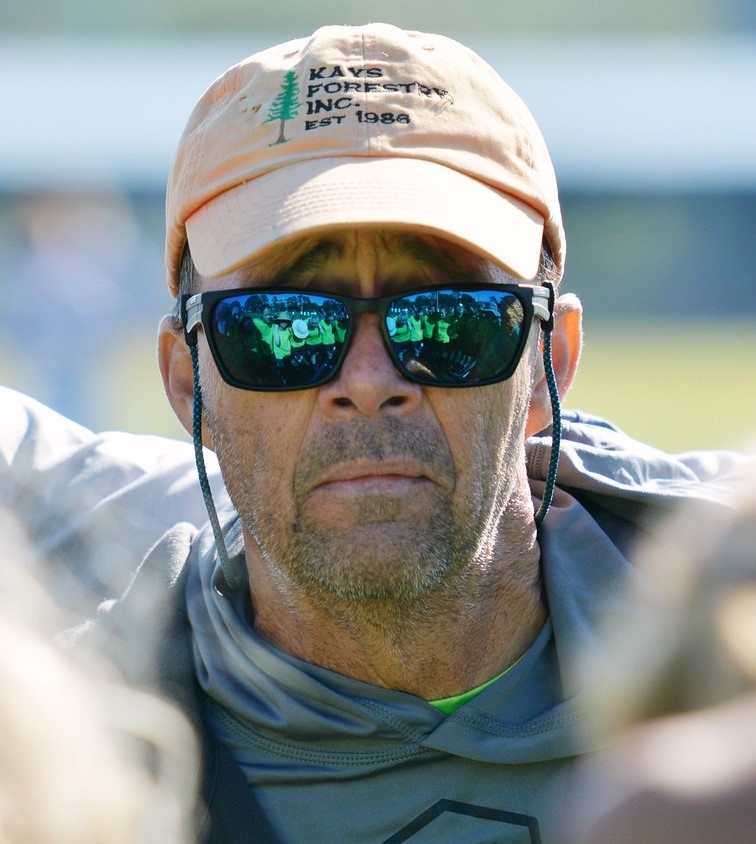 Brian Dobyns has played significant roles since the late 1970s in organizing local leagues and in coaching young women in North Carolina. His focus on building a strong local ultimate scene, exceptional coaching and dedication to our sport is his lasting legacy. A native New Yorker, Brian helped organize the New York High School Ultimate League in 1977, with Andy Borinstein, that four decades later boasts 23 schools. Together with his brother, Kenny, he started the New York Summer Ultimate League at Flushing Meadow Park in Queens in 1982, which incubated the player pool that fueled New York's ascendance as an ultimate powerhouse for the following decade. After moving to North Carolina in 1987, Brian formed the North Carolina Winter Ultimate League, which continues to be the backbone for ultimate activity in the area. A student of the game, he also participated in the first Certified Observer Pool in 1990 and participated in the test of the original COP procedures manual.

Brian was one of the earlier dedicated coaches for ultimate and, over his career, worked with ten teams across eight divisions to grow the depth and breadth of play in the Triangle region of North Carolina. He began his coaching career with North Carolina State from 1996-2001 and they won the College Championships in 1999. He coached the women's club team, Backhoe, from 2001-2006, going to Club Nationals six times and finishing second in 2004, and coached the University of North Carolina women's team, Pleiades, from 2007-2010, going to the College Championships three times. After coaching the Elon women's college team from 2011-2016, taking them to the College Championships four times, he coached the Triangle Ultimate YCC girls' team from 2015-2018, leading the Warhawks to a Youth Club Championship title in both 2017 and 2018.

Brian began his playing career in 1978 at Hampshire College and played with various teams in New York and North Carolina until 2017 in the open, mixed, masters, grand masters and great grand masters divisions, with national championship titles in masters in 1991 and mixed in 1999, and world championship titles in masters in 1990 and mixed in 2000.
The Vetting Sub-Committee included:
Suzanne Fields (Chair, Hall of Fame Committee) – Hall of Fame Inaugural Class of 2004
Keay Nakae (Open Peer Co-Chair) – Hall of Fame Class of '12
Steve Dugan (Open Peer Co-Chair – Hall of Fame Class of '17
Pam Kraus (Women's Peer Chair) – Hall of Fame Class of '17
Robert "Nob" Rauch (Contributor Peer Chair) – Hall of Fame Class of '06
Steve Mooney (USA Ultimate Board Liaison) – Hall of Fame Class of '06