Colorado Springs, Colo. (Nov. 29, 2018) – USA Ultimate, the national governing body for the sport of ultimate in the United States, is excited to announce the addition of Katie Smith to the list of speakers for the 2019 National Team Coaching Symposium.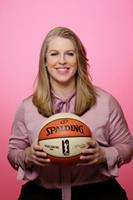 Smith is the head coach of the WNBA's New York Liberty and one of the most decorated athletes in professional basketball history. She is a three-time Olympic gold medalist with Team U.S.A. She also earned two gold medals and one bronze medal for the U.S.A. in the FIBA Women's Basketball World Cup.
Smith played collegiately at The Ohio State University, where she led the Buckeyes to the Big Ten Championship and the NCAA title game in her freshman year. During her college career, she also broke the Big Ten Conference scoring record for both the men's and women's divisions. In 2001, she became the first female athlete in Ohio State history to have her jersey number retired.
Professionally, Smith won two championships with the Columbus Quest in the ABL and two more championships with the Detroit Shock in the WNBA. She is the all-time leading scorer in women's professional basketball, having scored nearly 8,000 points in her combined time in the ABL and WNBA. During her career, she was named to the WNBA All-Star team seven times and was the 2008 WNBA Finals MVP. Smith was a first-ballot inductee into the Naismith Basketball Hall of Fame and Women's Basketball Hall of Fame in 2018.
After retiring from the WNBA following the 2013 season, Smith served as an assistant coach for the New York Liberty from 2014-2015, and was promoted to associate head coach in 2016. She became the team's head coach in October 2017. She is also a women's college basketball analyst for ESPN.
Smith will deliver the keynote address at the 2019 USA Ultimate National Team Coaching Symposium, set to be held February 8-10, in Colorado Springs. Other presenters include USA Ultimate National Team coaches Matty Tsang and Martin Aguilera. The symposium will focus on building a successful team program and culture.
Registration for the symposium is open now. Register by Sunday, Dec. 2, to receive early bird pricing.
Get more information and register now.